Ministry News Roundup – August 2023

Want your ministry featured in the next Touchstone issue? Submit content here!
Africa
Sierra Leone

 
With international missionary Mike Morley from Home Leone, Prison Fellowship Sierra Leone visited male and female inmates in correctional facilities in Freetown and Bo to distribute clothing and reading materials for the prisoners and their children. They also met with numerous correctional chaplains to maintain a positive relationship with the prison system. During these visits, the Word of God is shared with both officers and inmates. 
Nigeria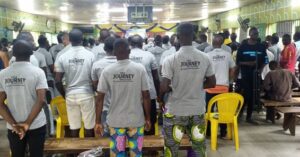 Prison Fellowship Nigeria and The Lord's Chosen Charismatic Revival recently hosted a ceremony to honor The Prisoner's Journey graduates at Ikoyi Correctional Facility.  
Prison Fellowship Nigeria (PFN) inaugurated a new chapter in Anambra State, fostering collaboration between PFN, Nigerian Correctional Service (NCS) and Nigerian Parole Board. The Command Controller of Corrections praised PFN's continued partnership, expecting enhancements to collaboration between ministries in local custodial centers. The Parole Board Chair emphasized the effectiveness of community corrections and restorative justice as a tool of NCS' key pillars: reformation, rehabilitation and reintegration. PFN's Executive Director remarked that no single denomination can offer all support, so synergy of all faith-based organizations is imperative. The meeting included a Q&A session, a unanimous deciding vote, presentation of chapter interim leaders and prayers for the new chapter.  
Prison Fellowship Nigeria's Niger State Chapter held a summer camp for children of prisoners enrolled in PromisePath. This year's theme was "Precious to God." 
Asia Pacific
Cambodia
Prison Fellowship Cambodia's Livelihoods program supports families of prisoners to raise chickens in order to focus on income generation. Watch this video to see a program participant demonstrate how to make chicken or poultry feed.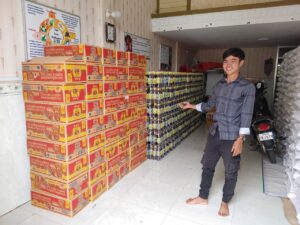 The Child's Journey program provides care and opportunities for children of prisoners to equip them to live a life of full potential. This includes providing medical support, safe shelter, education and nutritious food. Check out the food stock that Prison Fellowship Cambodia is ready to deliver to program participants!  
Philippines
125 male prisoners in the Pasay City Jail, Philippines were recently recognized for their graduation from The Prisoner's Journey program. Lead by Pasay City Jail wardens and Prison Fellowship Philippines, graduates received certificates of recognition, packaged meals and bowls of champorado, a sweet chocolate rice porridge, at the event.  
Sri Lanka
Prison Fellowship Sri Lanka recently held a pre-prison program in Chenkalady. 
Singapore
Staff and beneficiaries of Prison Fellowship Singapore's (PFS) Women Support Group, a female-only fellowship providing a safe space for ex-offenders to make connections and establish friendships, attended a volunteer-led make-up session. PFS programs equip ex-offenders with practical skills in order to add value to their lives and contribute to their wholistic well-being. 
Europe and Central Asia
Scotland
Prison Fellowship Scotland recently released their summer newsletter! Check out the latest edition for prayer requests from around Europe and Central Asia, to learn how PFS measures success and see the impact they have had on children of prisoners recently.  
Czech Republic
A recent article highlighted the alarming recent report from the Czech Helsinki Committee about the lack of accessibility to basic hygienic supplies (toilet paper, sanitary pads, toothbrushes, etc.) in Czech prisons due to financial difficulties. To combat this issue, Prison Fellowship Czech Republic launched a fundraiser to purchase these supplies to ensure that basic hygiene is a right, not a luxury, for prisoners.  
Prison Fellowship Czech Republic's Angel Camp was recently visited by CNN Prima's New Day program to share a live broadcast from the camp. The journalist jumped right into the morning warm-up with the children! Watch the segment at the 21 minute-mark here. 
Ukraine
View this post on Instagram
The second week of Prison Fellowship Ukraine's children's camp organized took place in the Dmitrivka, Kyiv region. 39 children were able to rest, turn away from the horrors of war and learn Christian principles of life. Packed with games, quests, food and stories about biblical heroes. the camp had an atmosphere that was so friendly that the children did not want to say goodbye. 
Italy
Hosted by Prison Fellowship Italy, 14 prisoners at Lanusei Prison were celebrated with applause and excitement for their graduation from The Prisoner's Journey program, marking their desire to continue toward a new life of change and hope!  
Latin America and the Caribbean
Perú
Congratulations, Prison Fellowship Perú, for celebrating 40 years of ministry! Their unwavering dedication has brought hope and transformation to countless lives of prisoners and their families. Here's to 40 more years of restoring lives and breaking the cycle of crime! 
Brazil
APAC Passo Fundo was visited by the Secretary of Criminal and Socio Education Systems and the Secretary of Justice, Citizenship and Human Rights. The committee of secretaries, along with other criminal justice councilors and leaders, were received with lunch and music by the APAC's director, volunteers and prisoners. This productive meeting enabled the secretaries to get acquainted with the APAC modules already built and future expectations with expansion. 
Prison Fellowship Brazil participated in an online meeting with students from the International Institute of Restorative Practices (IIRP) in in Pennsylvania, USA. IIRP is the world's premier postgraduate school specializing in the study of restorative practices, providing education, research and consulting services. This is the third year in a row that PFB has been invited to speak to students about the experience of APACs as a restorative justice program. 
Colombia
Prison Fellowship Germany Executive Director, Tobias Merckle, recently visited Prison Fellowship Colombia to strengthens the ties between the two nations and prison ministries. During his stay, Tobias participated in various program activities and shared his experience, knowledge and perspectives to enrich our practices, impact and collaboration. 
Uruguay
As a program partner for The Prisoner's Journey, Sycamore Tree Project and Prison Project Philip, Prison Fellowship Uruguay is always busy with course sessions and graduations. Check out some of the recent pictures from their many program activities and efforts!  
Costa Rica
Praxis Center of Costa Rica supports Prison Fellowship Costa Rica through student internships to build transformative alliances for a relationship of empowerment and mutual exchange of gifts. Students from the Center recently painted a mural at PFCR's APAC Center for Restorative Justice and Social Inclusion in San Rafael de Alajuela. Learn more.
North America
Canada
So far this year, Prison Fellowship Canada volunteers have received over 1,000 phone calls from 59 participating institutions through PFC by Phone. This program started during the pandemic as a way of offering support when in-prison programs weren't possible. Despite their in-prison ministry running again, PFC by Phone continues to be an amazing way of connecting with prisoners for conversation, spiritual friendship, and prayer.  
United States of America
Emily Colson, daughter of Prison Fellowship International founder Chuck Colson, recently shared her father's testimony as this year marks 50 years since he came to Christ. Read the powerful story below.