Ministry News Roundup – October 2023

Want your ministry featured in the next Touchstone issue? Submit content here!
Serving Prisoners
The Prisoner's Journey

Uruguay
The Prisoner's Journey participants complete a course session and a graduate receives his certificate of completion in Unidad 16, thanks to Prison Fellowship Uruguay.
Albania
Graduates of The Prisoner's Journey are celebrated with certificates of completion from Prison Fellowship Albania.
Ukraine
This year, The Prisoner's Journey launched for Prison Fellowship Ukraine. Two courses have already been held and have graduated prisoners. At Drohobych Correctional Colony, 30 prisoners participated in the program. Last month, 21  successful program graduates were celebrated, receiving certificates of course completion and gifts from their mentors. In Korosten Penitentiary #71, 14 graduates received certificates of completion and gifts. The 200 people present at the graduation also witnessed a concert from Gennady Nikutin, a Christian singer.
Rwanda
Prison Fellowship Rwanda completed the first quarter of its ninth program year for The Prisoner's Journey. Check out these images from the field!
Brazil
Check out some recent pictures from graduation ceremonies for The Prisoner's Journey held by Prison Fellowship Brazil. 
Namibia
At Windhoek Correctional Facility, some graduates of The Prisoner's Journey have formed a band and started writing songs about the course and the gospel of Mark. Click here or the image below to hear their songs. 
Romania
Prison Fellowship Romania volunteers from The Prisoner's Journey participated in a training offered by Romeo Popan, the TPJ project coordinator.  

---
Sycamore Tree Project

Uruguay
Sycamore Tree Project facilitators from Prison Fellowship Uruguay recently held course sessions in Unidad 4 and 5.
---
Cambodia
Prison Fellowship Cambodia has begun offering vocational training, specifically in tailoring, for female prisoners at Correctional Centre 2. 
Partnering with Giving University, PF Cambodia visited prisoners in CC2 and provided them with food and basic needs packs.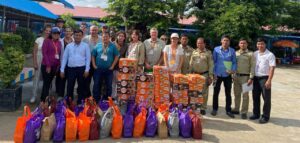 Italy
Ahead of the International Day of Peace, Prison Fellowship Italy organized a soccer tournament that brought together artists, athletes, prisoners and prison workers at the women's section of the Roman prison. The event aimed to symbolize global peace through sports and solidarity, involving various sports associations and clubs, with awards for the winning teams and a celebration after the matches. 
Czech Republic
After release, many former prisoners find it hard to go certain places, like restaurants. They may not have the finances, suitable clothes or confidence to do so. Prison Fellowship Czech Republic's 2 Fish Club, a program to encourage the well-being and reintegration into society of released offenders, celebrated the end of summer with a well-enjoyed restaurant visit. 

Eswatini

 
Prison Fellowship Ministries (USA) donated Life Recovery Bibles to Mbabane, Big Bend, Matsapha and Mankayane Correctional Facilities in Eswatini for inmates undergoing rehabilitation process. Prison Fellowship Eswatini had the opportunity to share the Word of God in different cell blocks across the prisons.  
---
Serving Families and Children of Prisoners
The Child's Journey


Recently, National Ministries distributed age-appropriate scripture resources to children and caregivers who participate in The Child's Journey.  
Togo
Zambia
Rwanda and Zambia
Developed as a new initiative within The Child's Journey, Home Harvest is a livelihood effort for families of prisoners to establishing gardens that increase access to nutritious food for years to come. Prison Fellowship Zambia planted sack gardens during their recent training. Less than 90 days later, the gardens are flourishing with spinach, kale, garlic, and onions (see image below on right)! Prison Fellowship Rwanda and PF Zambia are currently in the process of selecting and training The Child's Journey families who will be participating. 150 out of 250 planned families have been enrolled and trained, with 20 already establishing gardens. The remaining families will be trained over the next weeks. 
Cambodia
Prison Fellowship Cambodia provides food distribution services to children and families of prisoners in The Child's Journey!  
---
PromisePath

Burkina Faso
At Prison Fellowship Burkina Faso's PromisePath Back-to-School event, children received a backpack filled with school supplies and age-appropriate scripture resources provided by Prison Fellowship International's strategic partner, Biblica. 
---
Singapore
Prison Fellowship Singapore prepared Sheng Shiong vouchers, a local supermarket, for families served through Angel Tree.  
Czech Republic
Introducing the newest member of the Prison Fellowship Czech Republic team, Chuck! Named for Prison Fellowship International's founder, Charles "Chuck" Colson, this fluffy friend will now be present at their children's events. With huge wings, Chuck hug and share the love with several children at once! ️  
At a recent A Day with a Child event, PF Czech Republic brought together incarcerated fathers with their children for a day of games, music, laughter and joy. One father shared that it was the best day in his six-year sentence, while another was able to see his children again after two years. These events serve as motivation and hope for the families and the convicts for the days to come. Learn more.
The most recent guest at PF Czech Republic's Dream Academy was video game designer Michal Jirásek. He shared with the girls about how he used to escape into computer games and as his love for them has stayed, he now works as their creator.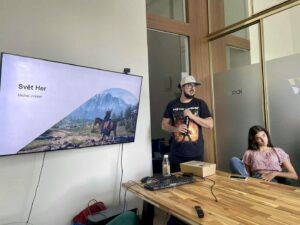 Burkina Faso

 
Prison Fellowship Burkina Faso launched a new program called The Food Program. Aimed to support women with incarcerated husbands, the program provides small credit for income-generating activities.  
Cambodia
Prison Fellowship Cambodia's Livelihoods program provides families of prisoners with the opportunity to start chicken rearing. Check out this recent picture of a family's flock of chickens.  
Trinidad and Tobago
Prison Fellowship Trinidad and Tobago has launched Angel Tree for the 19th year. 200 children will be reunited with their parents in prisons across the country during December.
Côte d'Ivoire

 
Prison Fellowship Côte d'Ivoire handed out 500 school kits across two cities. These kits will help the children of destitute families in conflict with the law, as well as the children of prisoners, to return to school. 
---
Other News
Cambodia
Prison Fellowship Cambodia's Executive Director, Sabun Ou, served as a visiting expert and conducted a lecture titled "Fostering Collaboration: Private Sector's Role in Promoting Rehabilitation and Reintegration in Cambodia's Criminal Justice System" at the United Nations Asia and Far East Institute for the Prevention of Crime and the Treatment of Offenders in Tokyo, Japan.
Scotland
Prison Fellowship Scotland's Annual Gathering was a time to gather in fellowship and share the work they have done over the past year. The event was filled with an inspiring speech from Charles Maaz, Chief Executive of Glasgow City Mission, worship and meaningful discussions.
Italy
"In Silence, a Light Breeze – The Whisper of Hope" was the theme of the 38th National Convention of the Italian Association for Pastoral Health Care. The event was filled with prestigious speakers over four days, with Prison Fellowship Italy's Executive Director joining the Inspector General of Italian Prison Chaplains for a session on "Pastoral Care in Prisons."  
Singapore 
Prison Fellowship Singapore hosted Mr. Lee Kok Hwee, Board Chairperson of Prison Fellowship Malaysia, at their office. It was a wonderful time of exchange, with conversations about exploring possible collaboration and mutual support.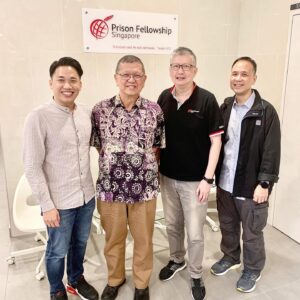 Lebanon 
Along with seven other southern Middle Eastern countries, Prison Fellowship Lebanon's Board Chair, Executive Director and Rehabilitation Coordinator visited Italy to learn about therapeutic communities and drug addiction treatment services on Italian soil.  The goal was to disseminate the Italian model of recovery from addiction, exchange knowledge and good practices, and promote capacity building. During the meeting, Board Chair Father Marwan Ghanem spoke about the increase in Lebanese drug users due to refugees and the economic crisis.  
Argentina 
Prison Fellowship Argentina held a training on the treatment and approach to addictions in the framework of the "The Truth Will Set You Free" program that takes place both inside and outside prisons. 
Germany 
Prison Fellowship Germany has been awarded €5,000 from the VNG Foundation's 2023 Commitment Prize in the category Climate and Nature. With the prize money, local residents and incarcerated men will plant ~100 m² of bird protection hedge at Lake Hainer and create ~500 m² of flowering meadow. This initiative will provide more habitat and diversity for animals and plants, along with more recreational space for the people in the region. Learn more. 
Colombia 
Prison Fellowship Colombia hosted Dr. Sung Joon Jang and Dr. Byron Johnson from Pepperdine University for a training on ethics and human subjects in the survey process. This training is for the upcoming study to measure the transformative effects on a range of PF Colombia programs. Learn more about the partnership. 
England and Wales 
Prison Fellowship England and Wales' CEO, Peter Holloway, recently spoke with Amy Follett at TWR UK about the daily struggles of people in prison and how PF E&W supports them in light of staff shortages. Click here or on the image below to listen in! 
Czech Republic 
Prison Fellowship Czech Republic, in partnership with the Czech Prison System and Czech Ministry of Justice, organized an international conference in Prague focusing on the APAC methodology. Originated in Brazil, this methodology is based on the principles of restorative justice and Christianity. Now, it is spreading to other countries and Prison Fellowship International representatives from Europe will share their experience at the conference. Watch day one and day two if you missed it!