Ministry News Roundup – May 2023
Want your ministry featured in the next Touchstone issue? Submit content here!
Africa
Engaging with Local Nigerian Correctional Center 

As part of their ongoing efforts to support incarcerated individuals, Prison Fellowship Nigeria's Lagos Chapter paid visits to the Ikoyi Correctional Center and all the correctional facilities in Kirikiri, Lagos, demonstrating their commitment to fostering positive change within the correctional system. 
Nigerian Chaplaincy Conference on Rehabilitation & Reintegration Strategies

 

Prison Fellowship Nigeria, alongside the Nigerian Correctional Service and PRAWA, organized a two-day chaplaincy conference focused on the implementation of effective policies and strategies for the rehabilitation and reintegration of individuals to foster safer and healthier communities. The conference brought together professionals and experts to explore the crucial role of chaplaincy in the Nigerian correctional system. 
Empowering Malawian Children with Faith and Scripture
The Prison Fellowship Malawi's The Child's Journey® team is dedicated to guiding children in the path of righteousness and instilling a lasting faith in their lives. They recently shared this video of a beneficiary sharing her favorite verse (John 10:14-15) and celebrating the opportunity to deepen her knowledge of God, thanks to Biblica's Reach for Life Bibles.  
Rwandan Children and Caregivers with Incarcerated Loved Ones Find Support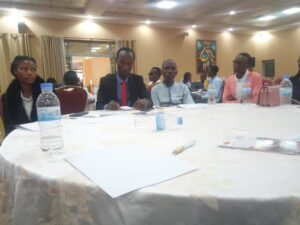 Children enrolled in The Child's Journey through Prison Fellowship Rwanda participated in a meaningful conversation with representatives from a societal healing program, discussing trauma healing. Meanwhile, support groups offered valuable assistance to caregivers, empowering them to utilize available resources and foster resilience within their families. 
Asia Pacific
Building Health and Unity with the Singaporean Team
Prison Fellowship Singapore promotes physical fitness through bi-weekly exercise sessions led by an experienced fitness instructor. PFS team members work together towards a healthier and fitter version of themselves, emphasizing the importance of unity and shared progress. 
Inspiring Video of Cambodian Girl's Scripture Engagement
Prison Fellowship Cambodia shared this video of a girl enrolled in The Child's Journey reading Psalm 121:1-4 from her Bible. Scriptural resources are a key component of enhancing the spiritual growth of children of prisoners.
Strong Partnerships and Dedicated Mentors Help Filipino Children of Prisoners Thrive
Prison Fellowship Philippines was among the first cohort of national ministries to launch PromisePath®, enrolling over 300 children in the program. Despite challenges, the team has skillfully forged relationships with churches, managed commitment levels, expectations and outreach methods, and selected quality mentors. 
Europe and Central Asia
Unforgettable Weekend for Czech Children of Prisoners
Children from Prison Fellowship Czech Republic's Angel Club in Brno had a fantastic weekend getaway in the Vysočina region, enjoying nature, games and creative workshops. This event provided a much-needed break for these children, fostering camaraderie among them and deepening their trust in the club's leaders. 
Bibles donated for Italian participants in The Prisoner's Journey®
The Italian Episcopal Conference has donated 8,000 Bibles for each participating prisoner in The Prisoner's Journey. This generous gesture was accompanied by the bishops' well wishes and commitment to pray for each individual, recognizing Prison Fellowship Italy for its potential to bring about positive change in the hearts and lives of those in prison. 
Supporting Romanian Women in Business at Local Event
Prison Fellowship Romania participated in the "Making Cluj Thrive Together" event, fostering connections and supporting women in business and entrepreneurship within the community, aiming to strengthen relationships and provide a supportive environment for professional growth. 
Ukrainian Prayer Breakfast Highlights Transformative Power of Faith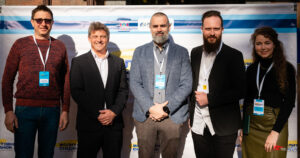 Prison Fellowship Ukraine, accompanied by partners from Prison Fellowship Romania and PFI, participated in the Second Prayer Breakfast hosted by the State Criminal-Executive Service of Ukraine. The event served as a platform to showcase the collaborative work between the service and local churches, featuring insightful presentations and personal narratives from former prisoners and prison officials. The focus was on the profound impact of faith and cooperation in transforming lives and fostering positive change within the criminal justice system.  
Latin America and the Caribbean
Honoring Generosity and Support of Trinidadians Donors
Prison Fellowship Trinidad & Tobago held its inaugural Donors Appreciation Award function at Grace Communion Church to honor and recognize the contributions of its donors. The event served as a platform to express gratitude and celebrate the support received from generous donors. Watch the full event here. 
Cross-Country Governance and Fundraising Training 
Lacides Hernandez, Prison Fellowship Colombia President, conducted a four-day training session for Prison Fellowship Argentina volunteers and board members, focusing on governance and fundraising to enhance their capacity. 
Empowering Collaborators and Recovery Participants through APAC Training
Prison Fellowship Brazil conducted a training session at APAC Nepomuceno, covering team management, problem identification, strategy development and effective decision-making for collaborators, while offering a comprehensive understanding of APAC methodology and history for the recovery participants. 
Celebrating Growth of Paraguayan Participants in The Prisoner's Journey
Prison Fellowship Paraguay shared their exciting growth of The Prisoner's Journey course, which now includes three new prisons. Celebrating the graduation of the first 36 participants, Prison Fellowship Paraguay asks for prayers for God's continued guidance as they help prisoners deepen their personal relationship with their Savior. 
Middle East and North Africa
Sharing the Good News with Lebanese Prisoners 
Prison Fellowship Lebanon Executive Director, Rima Saade Turk, and her team members shared a photo of them before entering prison to share the Good News with incarcerated men and women. The national ministry runs both The Prisoner's Journey and the Sycamore Tree Project® to reach prisoners.  
North America
New Study Confirms Positive Impact of Religion on Mental Health in Prisoners
A recent study conducted by Baylor University in Colombia reveals that participation in religious programs and practices among prisoners leads to the development of positive virtues, reduction in negative emotional states and transformative effects on beliefs and behavior. The findings support the mission of Prison Fellowship International's in-prison program, The Prisoner's Journey, and provide empirical evidence of the positive impact of religious programming that national ministries conduct for prisoners worldwide.
Read the complete study here: Virtuous Effects of Religion on Negative Emotions among Offenders in a Colombian Prison
Ministry News Roundup – April 2023
Want your ministry featured in the next Touchstone issue? Submit content here!
Africa
Executive Leadership Transition for PFR

Prison Fellowship Rwanda's (PFR) Board of Directors has appointed Celestin Ngaruyinka as its interim Executive Director. Mr. Celestin replaces Bishop Gashagaza Deo who has transitioned to PFR's Strategic Guidance Coordinator. Read the full release here.  
Working to Decrease Recidivism for Youth
Prison Fellowship Cote d'Ivoire and the National Federation of Livestock and Meat Cooperatives of Cote D'Ivoire held a working session to discuss a partnership between the two organizations. This hopeful meeting included conversations about the training of residents and material/financial support for the activities of the ONESIME Centre, a rehabilitative and alternative solution to incarceration for minors that increases their chances of positive reintegration. 
Disaster Relief for Cyclone Victims
Prison Fellowship Malawi (PFM) donated various items to cyclone Freddy victims at Nyengeni camp in Mulanje. PFM provided 25 bags of maize flour, 11 bales of soya pieces, 18 cartons of soap, 2 bales of sugar and 18 bags of assorted clothes to the nearly 700 camp inhabitants. Cyclone Freddy struck on February 4, 20223 and claimed 511 lives, injured 1,724 people and internally displaced 563,771 people. 
Asia Pacific
Enabling Families with Incarcerated Loved Ones to Thrive
When the main household provider goes to prison, families often find their lives financially difficult to live. Through their Livelihoods project, Prison Fellowship Cambodia provided chicken and poultry farming kits for two families in the Kampot province to begin raising chickens to generate income to support their families. 
National Christian Prison Ministries Highlighted for Faithful Work
Prison Fellowship Singapore was featured in an article by Christianity Today that closely surveys the Singaporean prison ministry landscape. The article covers the PFS integrated ministry (IM) strategy and includes these words from Lee Oi Wei, head of the IM program: "We look after the silent victims, the family members, bringing healing and restoration. Our main purpose is to help bring reconciliation to the families because family is a very strong motivation for change and turning over a new leaf." Read the full story here. 
Hope for Children of Prisoners through Angel Tree
Prison Fellowship Bangladesh recently held an Angel Tree event to provide school supplies for 45 children of prisoners.
Europe and Central Asia
Children of Prisoners Supported during Holiday Season

Prison Fellowship England and Wales (PFE&W)shared the incredible lifetime impact of their Angel Tree program! Since program inception in 1994, PFE&W has created 100,000 connections between children and their parents in prison.  
Bringing the Word of God Behind Bars
Prison Fellowship Italy collaborated with the Italian Episcopal Conference and the Inspectorate General of Prison Chaplains to deliver 8,000 Bibles to prisoners in 100 prisons. The initiative aims to promote the spiritual, educational and catechetical development to help incarcerated individuals discover hope and new life. Read the full article here. 
Latin America and the Caribbean
Incarcerated Enabled to Take Responsibility for Actions
Ten young incarcerated men have graduated from Prison Fellowship Colombia's Restorative Justice, Reconciliation and Forgiveness program. The program, containing components of the Sycamore Tree Project® and The Prisoner's Journey®, aims to give detainees the opportunity and tools to reflect on their actions and redirect their behavior, taking into account the negative impacts of their crime. Read the full story here.
Sharing the Gospel and Good News with Those in Prison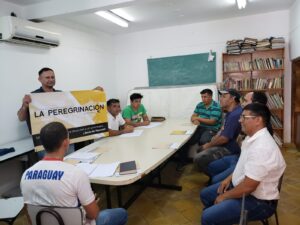 Prison Fellowship Paraguay (PFP) began running The Prisoner's Journey® (TPJ) courses in six prisons in March. PFP shared their gratitude for the volunteers who put in the effort and give their time to God to teach the valuable gospel of Jesus, along with their appreciation for prayers. Let us join them in praying that God gives understanding and wisdom to the TPJ volunteers and participants.  
Transforming Women's Lives Through Jesus' Love

Prison Fellowship Puerto Rico graduated 68 incarcerated women from the Madalena Project, one of their initiatives aimed at transforming women through the message of love, dignity and hope from Jesus Christ
North America
Joining in Daily Prayer with Other National Ministries
Did you know that Prison Fellowship Canada produces a monthly prayer calendar? View it here in English or French to join in daily prayer for a range of needs and requests.  
April 2023 Officially Declared Second Chance Month
Prison Fellowship Ministries' Second Chance Month initiative was officially declared April 2023 by the President of the United States. This initiative supports the removal of unnecessary barriers for the 1 in 3 American adults with a criminal record. Read the proclamation here.  
Ministry News Roundup – March 2023
Want your ministry featured in the next Touchstone issue? Submit content here!
Africa
Providing Opportunities for Prisoners Outside Cell Walls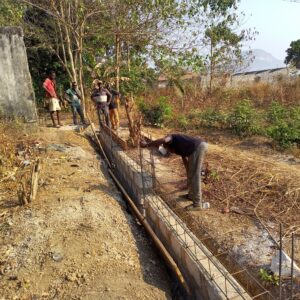 Prison Fellowship Guinea-Conakry has begun working on the courtyard at Coyah Civil Prison to provide a space for prisoners to have space for sports and gardening, allowing them to reduce the amount of time they spend in their cell.  
Festivities, Fun and Food Provide Transformation
Love feasts are great days at correctional facilities thanks to Prison Fellowship Nigeria and partner churches. These activities provide inmates with fun through games, prizes, Bible quizzes and food while the PFN staff ensures that lives are transformed at each meeting.
Asia Pacific
Joyous Reunion Between Children and Incarcerated Mothers
Thanks to the hard work of The Child's Journey caseworkers from Prison Fellowship Cambodia, children were able to visit their incarcerated mothers for the first time in a while. What a beautiful moment of reuniting! 
Volunteer Shares Prisoner's Inspiring Story
Prison Fellowship Australia shared a video of a volunteer who recounts the story of a prisoner who only attended their service to enjoy the cool air, but ended up asking for prayer and seeking forgiveness!
Europe and Central Asia
One Year Later – PF Ukraine's Response to the War
Last month marked one year of the war in Ukraine. No words can describe the tragedy that has occurred, but this short video from PF Ukraine beautifully summarizes what has happened and how their ministry has responded. Watch the video interview here or above. Be sure to click "Settings" to translate the captions into your language.
Finding Forgiveness and Rehabilitation through The Prisoner's Journey
Graduates celebrated their completion of The Prisoner's Journey course at Liberec Prison, Czech Republic as they received certificates and, of course, delicious sandwiches. Course facilitator Vladimír Burkner shared the following about the program: "The aim of the course was to raise questions in the convicts that they never had to answer or even think about in their lives. Participants actively participated in debates on various life topics, including forgiveness and awareness of the consequences of life." 
Partnering with LEGO Provides Fun Activities for Children of Prisoners
Thanks to their longtime supporter, LEGO, Prison Fellowship Czech Republic received a donation of LEGO DUPLO bricks. Each child visiting their parents in Světlá nad Sázavou and Kuřim Prisons received two large boxes with a mixture of these cubes. PFCZ believes that with this partnership, children will be able to make fun memories with their incarcerated parents to temporarily forget the pain they are experiencing. 
Latin America and the Caribbean
Municipal Partnership Provides Revitalization and Recovery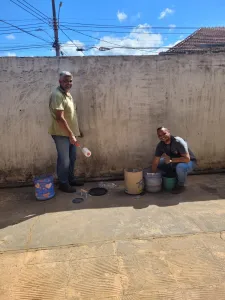 Partnered with the local city hall and judiciary, the APAC in Conceição das Alagoas through PF Brazil allows recovering individuals to complete various municipal tasks, including repairing buildings, installing benches, painting schools, gardening and cleaning public roads. Not only does this initiative provide reintegration opportunities, it also contributes to the recovery of self-esteem and self-image of the recovering persons. Read the full story.
Reaching and Feeding the Community
Along with partner organizations that provide healthcare and support for men, Prison Fellowship Bahamas provided lunch to children and adults in the inner-city community.
The Prisoner's Journey Training Across the Region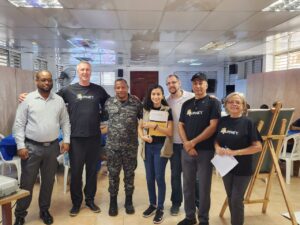 The PFI team visited both Prison Fellowship Paraguay (top) and Prison Fellowship Dominican Republic (bottom) to train the first group of internal and external TPJ facilitators for both national ministries. 
Back-to-School Event Provides Support for Children of Prisoners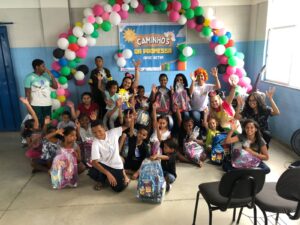 Prison Fellowship Brazil hosted a back-to-school event for children of prisoners enrolled in PromisePath, providing school kits including things like backpacks, notebooks, pencils/pens and other educational supplies. 
Middle East and North Africa
Cross-Continental Appointment Highlights Strong Work
The Swiss Department of Foreign Affairs officially announced the appointment of Prison Fellowship Israel's Jamal Kamil Shahade as an honorary consul of Switzerland. The official ceremony was attended by the Swiss Ambassador, along with a number of dignitaries.
Ministry News Roundup – February 2023
Want your ministry featured in the next Touchstone issue? Submit content here!
Africa
The Prisoner's Journey Graduates Joyfully Celebrate
Prison Fellowship Nigeria graduated 150 prisoners from The Prisoner's Journey® and celebrated at a joy-filled ceremony. In addition to praise, dancing and worship, graduates enjoyed receiving certificates of participation and gift items. Read the full story here. 
Staff Honored at Annual Employee Retreat
Prison Fellowship Rwanda held a corporate all-staff retreat to bring the team closer and build a strong cohesive culture. At the event full of food, drinks, games and brainstorming, the PFR 2022 Employee of the Year was also awarded to mark one individual's exceptional work, contribution, behavior and success. The best employee from each of PFR's seven program areas were also named. Read more about the event here.  
Asia Pacific
Children of Prisoners Recognized for Outstanding Achievement
One of the ways Prison Fellowship Singapore supports the families of prisoners is through their Care Club, a program that empowers children of prisoners through tuition support, counseling, games, art, music and family bonding activities. Recently, PFS celebrated multiple Care Club students who were awarded scholarships at the Edusave Awards, recognizing academic achievements and exemplary conduct. 
Partnerships Allow Programs and Families to Thrive
Prison Fellowship Cambodia and members of the Hopebearer Foundation recently visited participants in their Livelihood program, providing families of prisoners resources and supplies to raise small animals to improve long-term quality of life and spiritual growth through a sustainable income.
Europe and Central Asia
Providing Expert Opinion from Restorative Lens
Prison Fellowship England and Wales CEO Peter Holloway recently shared about the importance of a rehabilitative approach to criminal justice on a TWR UK radio broadcast. Watch the full interview here or above. Click "Settings" to translate the captions into your language.
Regional Forum Provides Connection, Training and Inspiration
Representatives from European and Central Asian national ministries gathered for a long-awaited event, the regional forum! Titled ""Flowers and Eagles"" to reflect the blooming and soaring of the greater PFI ministry, this year's conference brought together 54 people from 26 countries to reflect on their prison ministry experiences and gain inspiring ideas to grow their own ministry. Watch a video recap of the event here or below. Click "Settings" to translate the captions into your language.
Church's Role in Prison Reform Discussed in Expert Interview
Prison Fellowship Ukraine Executive Director Vyacheslav Kogut joined "Cabinet of Experts" to discuss prisoners and the role of the church in social work within prisons. Since 2006, Vyacheslav has traveled to and ministered within prisons across the country. Watch the video interview here or above. Click "Settings" to translate the captions into your language. 
Training for Transformation in Italy
Prison Fellowship Italy organized facilitator training for 35 individuals to begin implementing The Prisoner's Journey® in prisons around the country. 
Latin America and the Caribbean
Supporting Anti-Violence Rally for Men Amidst Crime
Prison Fellowship Bahamas stood with the International Men's Day Committee in support of their rally for the elimination of violence against men and boys. The event was held in wake of a double murder in Nassau.
Reducing Recidivism in Prisons with Ministry Collaboration
Prison Fellowship Suriname met with delegates from the Dutch Ministry of Justice & Security to explore the possibilities of how to reduce recidivism in prisoners and how to support them in their human and professional development.
Praying and United in Faith
Prison Fellowship Trinidad and Tobago participated in the annual interfaith service organized by the country's prison system under the theme "Restoring Perspectives through Faith, Gratitude and Perseverance." 
Middle East and North Africa
Sharing the Prison Fellowship Experience Across Borders
Jamal [middle] from Prison Fellowship Israel visited Prison Fellowship Scotland and joined their prayer meeting to share about PF Israel's work, specifically about serving and supporting prisoners after their release.
Ministry News Roundup – January 2023
Would you like your ministry featured in the next Touchstone issue? Submit your content submissions here! We are especially looking for any Angel Tree® or Christmas photos and videos you have.  
Africa
Children Reunited with Parents After Lengthy COVID Restrictions
For the first time since COVID-19 pandemic restrictions locked down access to prisons across the world, Prison Fellowship Rwanda (PFR) was finally able to bring children enrolled in The Child's Journey (TCJ) program to visit their incarcerated parent.
PFR shared: "When a father sees his 14-year-old for the first time or when a daughter jumps in the hands of her father after seven years, then you know why prison visits are one of the highest impact areas within TCJ."
Providing Opportunities for Released Prisoners to Thrive in Trade
Prison Fellowship Malawi (PFM) graduated 52 residents from their six-month vocational skills training. The residents have been serving their remaining six months sentence at PFM's Halfway House while being trained in carpentry, joinery, welding, electrical installation and tailoring. Each student received start-up tools and capital for their trade.
The graduates were encouraged to use their newly obtained skills as a source of income after their release and reintegration. Government officials, civil society organization leaders, religious leaders, community leaders and the media were all present for the occasion.
Asia Pacific
Bringing the Hope of God to Prisoners During Christmas Celebration
Prison Fellowship Malaysia (PFM) donated fruit, pastries, water and hygiene products to Miri Central Prison. These gifts were distributed to prisoners during the celebration on Christmas day. Mr. Loh Lin Kwong, Chairman of Prison Fellowship Malaysia – Miri Division presented the gifts to Mr. Muhammad Khalid Bin Muhammad, Deputy Director of Miri Central Prison.
Ministry Recognized by Government Agency for Fair and Progressive Employer Practices
Prison Fellowship Singapore (PFS) was recognized by Tripartite Alliance for Fair and Progressive Employment Practices as a progressive employer in five areas: work-life harmony, unpaid caregiving leave, grievance handling, flexible work arrangements and age-friendly workplaces. Learn more about the Tripartite Standard adopted by PFS to be a fair and progressive employer.
Europe and Central Asia
Angel Tree® and Christmas Blessings Return to Children of Prisoners
After a seven-year pause, Prison Fellowship Kazakhstan revived its Angel Tree® program this Christmas! God has begun to open doors for the children of prisoners in this country thanks to the big hearts and efforts from the PFKZ team.
Magical, Musical Trip for Daughters of Prisoners helps Realize Dreams
Prison Fellowship Czech Republic (PFCZ) knows that children with incarcerated parents often lack familial motivation, money to support their interests and perspective when choosing their occupation. Through Dream Academy, children of prisoners visit professionals from various fields to learn about their life stories, obstacles and complications, providing the courage to gain self-confidence, worth and acceptance.
Recently, girls from Dream Academy visited musician and producer Tereza Mat Matjková's recording studio, allowing them to learn more about her life and career path. Many of the girls joined in the musical fun! Listen to the song that Tereza wrote for PFCZ's Angel Camp.
Latin America and the Caribbean
Christmas Celebrations Across the Region

 
Prison Fellowship Peru brought gifts and treats to the women incarcerated at Santa Monica Penitentiary. The children and their mothers also enjoyed a singing performance by some of the prisoners.
Smiles were brought to the faces of many children of prisoners through Prison Fellowship Colombia's Angel Tree® Christmas event that included sharing gifts and doing creative activities with the children.
The families of prisoners celebrated Christmas through numerous Angel Tree® celebrations held by Prison Fellowship Brazil that included delicious food, a visit from Santa, fun games (and a bouncy house!), photo opportunities and plays depicting Bible stories.
From Beneficiary to Facilitator: Firsthand Account of Sycamore Tree Project: Justice and Peace®: Justice and Peace Impact
Click here or the image above to watch the powerful video of Prison Fellowship Colombia's Sycamore Tree Project: Justice and Peace®: Justice and Peace program facilitator Diana Giraldo's testimony about the impact of the program on her life.
Middle East and North Africa
Christmas Service Unites Christian Denominations in Egypt
PF Egypt hosted a service to celebrate Christmas, inviting leaders from all Christian denominations present in Egypt, home to the largest Christian population in the region. Historically, this service has also been a TPJ graduation, providing a bigger audience to celebrate the graduating prisoners. With infrequent communication across denominations in Egypt, this celebration serves as a bridge builder for prisoners and the entire community across the varied Christian traditions.
Ministry News Roundup – December 2022
Latin America and the Caribbean
Prison Fellowship Brazil's documentary,
Unguarded
, now available on Amazon Prime
Recorded in 2019 in partnership with Prison Fellowship Brazil (FBAC), Unguarded portrays the experience of recovering persons participating in the Association for the Protection and Assistance of the Convicted (APAC) alternative prison model. Receiving numerous awards, this film shows the application of the 12 fundamental elements of the APAC methodology.  
Rent or purchase the film on Amazon or on Globo Play in Brazil.   
Alternative Prison Model Expands Reach in Mexico with Promising Results
Prison Fellowship Mexico presented the results of its pilot project for Association for the Protection and Assistance of the Convicted (APAC) Methodological Transfer. This unconventional prison model was implemented in the Quinta del Bosque Detention Center for Adolescents in Toluca, Mexico. Watch the full presentation.
Partnering with National Prison Department, Prison Fellowship Peru Brings Hope to Prisoners
Accompanied by the Peruvian National Penitentiary Institute (INPE), Prison Fellowship Peru visited the Huánuco, Cerro de Pasco and Cochamarca prisons to deliver donations, including digital thermometers, wool hats, and thread. They also went to support the resocialization work that is being carried out in prison. Watch INPE's highlight of PF Peru and the work they are doing in prisons around the country.
Prison Fellowship Dominican Republic Supports In-Prison, Bible-Based Play Performed by Prisoners
At a prison in La Vega, Dominican Republic, prisoners acted out a play based on the Bible story of Paul and Silas, complete with costumes and scenery. Aldo, a PFDR team member, was also there to hand out Angel Tree® treats for the children of prisoners present.
Europe and Central Asia
Prison Fellowship England and Wales Shares Lucy's Angel Tree® Story
Angel Tree® has the power to bring families separated by prison walls together for Christmas. Prison Fellowship England and Wales shared that with her husband in prison, Lucy figured this Christmas would be like the last – once where her children received no presents from their father. However, through Angel Tree®, her kids woke up to a present and handwritten note from their dad! Read the full story or watch this short animation about Angel Tree®.
Prisoners and Victims Come Together through Prison Fellowship Czech Republic's Building Bridges Project
Coming with personal stories of crime experiences, six prisoners and six victims gathered to start the path towards healing, forgiveness and repentance on the basis of restorative dialogue between both groups. The closing ceremony, attended by the public and media, illustrated the project's great impact for both sides of participants and influence on their perception of the past, all for the better. Read the full story.
Africa
Sharing Stories and Repairing the Harm: Prison Fellowship Rwanda Hosts Reconciliation Project
The Bilalo Byetu Project, a partnership between Prison Fellowship Rwanda and UNDP's Elman Peace is contributing to the reintegration and reconciliation of those affected by the Rwandan genocide. Reduced rejection and stigmatization for perpetrators and increased social cohesion with survivors works to bring peace and cohesion to all citizens. Read the full article to hear direct impact stories from both sides of the dialogues.
Asia-Pacific
Prison Fellowship Sri Lanka Celebrates Milestone Anniversary
Congratulations to Prison Fellowship Sri Lanka for reaching its 50th anniversary! As part of their celebrations, they received a visit from Asia-Pacific Regional Director, Daniel Bey (4th from the right).
Middle East and North Africa
Prison Fellowship Egypt Celebrates a Prisoner's Journey from Addiction to Freedom
A course facilitator shared the following story about how The Prisoner's Journey® program transformed the life of a prisoner:
"One prisoner who participated in The Prisoner's Journey struggles with addiction. At the end of the course, during the graduation ceremony, he stood up to announce his experience, saying he had to be imprisoned before he could know the meaning of freedom. This prisoner said, "My life began here. By God, I was freed from addiction through The Prisoner's Journey program, and I intend to continue learning more about Jesus through the Bible and by participating in any program that I can. I plan to invite all my fellow prisoners to attend these sessions. It changed my life; I know it can change theirs too." God used TPJ to free this man from his imprisonment to addiction."
Would you like your ministry to be featured in the next Touchstone issue? Submit your content submissions

here

! 

 
Ministry News Roundup – November 2022
Prison Fellowship Rwanda Uses Dialogue to Repair Lingering Harm
Prison Fellowship Rwanda, in partnership with the United Nations Development Program, held a Healing and Reconciliation Dialogue between perpetrators and survivors of the 1994 genocide. The goal of this project was to rid people of shame, unforgiveness, hate and revenge to see themselves as Rwandans instead of belonging to a community separated by ethnicity. Learn more about the initiative or watch the dialogue session. 
Prison Fellowship Ukraine Extends Support to Russian Prisoners of War
Amidst Russian invasions, Prison Fellowship Ukraine (PFU) is stepping up to help not only Ukrainian prisoners, but also Russian prisoners of war. This article in Christianity Today details the relief and aid that PFU is providing to prisoners and their families during these trying times.  
Prison Fellowship Australia Commemorates Ministry Anniversary with Festivities
Prison Fellowship Australia celebrated its 40th anniversary, bringing together 200 supporters from around the country. During the celebratory activities, they debuted Ellie's* story, sharing the impact of its Extraordinary Lives program that is working to break the cycle of crime for children of prisoners.  
Children of Prisoners Explore New Opportunities with Prison Fellowship Czech Republic
Prison Fellowship Czech Republic brought children of prisoners to a local science museum to explore educational exhibits, demonstrations and experiments. These children are part of its Angel Club, a weekly group for children of prisoners to enjoy fun activities, be encouraged and motivated by PF CZ leaders and volunteers, and experience new things they might otherwise not be able to do.  
Multiple Sessions of The Prisoner's Journey Training Completed Across Eastern Europe
Prison Fellowship Ukraine and Prison Fellowship Romania completed The Prisoner's Journey (TPJ) volunteer training with Stephen James and members of PFI's Europe Regional Office.  
Prison Fellowship Singapore Receives National Recognition
Prison Fellowship Singapore (PFS) was awarded both the Charity Governance and the Charity Transparency Awards from Singapore's Charity Council. These awards aim to recognize good governance and transparency in the charity sector. PFS Chairman, Gregory Vijayendran, and Executive Director, Chua Kok Wan, received the awards from Edwin Tong, Minister for Culture, Community and Youth and Second Minister for Law. Learn more about the ceremony and the awards.  
University Students Engage with Prison Fellowship International Affiliates in Europe
Prison Fellowship Spain (PFS) has visited numerous universities recently. They visited Universidad Católica San Antonio de Murcia (UCAM) where they held awareness sessions for nursing and journalism students to hear about the work that PFS does and volunteer testimonies. 
They also attended Jaume I University's volunteer fair, an event designed for organizations to inform students of volunteer opportunities related to fairness and serving those in need. PFS had great success at this event as many students showed interest in the ministry and signed up to volunteer!  
Prison Fellowship Netherlands also has been sharing with college students, as they brought ex-prisoners to 37 class sessions at Van Lodenstein College to share about their choices that led to a prison sentence. Their testimonies included the way that God called them into a relationship with him and their goodbye to a life and identity of crime. 
Prison Fellowship International Publishes Fiscal Year 2022 Annual Impact Report
Prison Fellowship International released its Annual Impact Report, detailing the global, transformative work that took place over the past fiscal year. This report is a testament to the hard work and dedication of staff, volunteers and leaders in 117 national ministries who tirelessly give themselves to this cause. Our impact is magnified because of the work that each of you do. Read the full report here.  
Would you like your ministry to be featured in the next Touchstone issue? Submit your content submissions

here

! 

 
Ministry News Roundup – August 2022
PF Guinea Conakry has now partnered with PFI to implement TPJ in 100% of their prisons (inviting 12,000 prisoners and graduating 5,500) over the course of the next three years.
 PF Rwanda's TPJ program year 7 is the highest performing year for the national ministry since inception of its partnership. The NM is also the highest performing TPJ partner during PFI's fiscal year 22, graduating the most prisoners out of all the TPJ partners globally. This level of activity was made possible because of the NM's strong network of internal volunteers, and access to 84% of the national prisoner population. In December, Bible League International (BLI) will provide PF Rwanda copies of the first-ever branded Kinyarwanda TPJ Graduation Bible, which includes the 52 Prison Project Philip (PPP) lessons. Kinyarwanda is an official language of Rwanda and spoken across the entire country — in government, schools and media. (In FY23, PF Nigeria is expected to be the highest producing TPJ partner, with more than 20,000 TPJ graduates.)

On November 4-5, PFI President and CEO Andy Corley will be speaking at PF Australia's 40th Anniversary Celebration. If you are interested in attending to reflect on how God has been working in this ministry for the last 40 years and what the future of the ministry holds, PF Australia would be delighted for you to join! Book your tickets today.

Since the implementation of TCJ over the past year, PF Rwanda has worked hard to meet two significant program standards: recruiting volunteer mentors and providing enrolled children in the program with an annual health check. We are so excited to report that this quarter, PF Rwanda has recruited 200 volunteer mentors and provided 1,133 children with the basic requirements needed for their annual health check.
PromisePath is scaling from four to ten countries in FY23, as we are adding Benin, Burkina Faso, Kenya, Liberia, The Philippines and South Africa. Together, they will serve 2,500 children of prisoners to bring the total number of children served by PromisePath in FY23 to over 5,000.
TCJ's group-based mentoring will be fully implemented this month by all participating national ministries. Recruiting volunteer mentors to lead this activity is a never-ending task for the national ministries. Here members of PF Rwanda's staff are seen meeting with members from a local church. At the meeting they presented the TCJ program and discussed how the congregation could get involved and support TCJ. As a result of meetings like this one, PF Rwanda has recruited 67 volunteer mentors, and they hope that the connections they are making with these local churches will lead to the recruitment of additional mentors and support for the national ministry.
Here's a powerful testimony from a recent TPJ Graduate in Malawi: 'I come from a Christian family but was never a Christian myself until I was sent to prison. TPJ has completely changed my point of view in regard to Jesus and Christianity in general. I now understand that the bible is a personal tool to understand God's love for me and in me. I have fallen in love with the Word of God and I feel alive every time I spend time reading the bible, whether on my own or in bible study with my fellow prisoners. Jesus is in me and even though am still in prison, I am free inside. When everything fails, indeed Jesus never fails. I feel like shouting to the whole world what He has done in my life.' — Ulanda, prisoner, Domasi Prison
Ministry News Roundup – July 2022
Earlier in July, a strategic meeting took place in Ukraine involving four PFI partners: PF Ministries (USA), PF Germany, PF Romania and PF Ukraine. The meeting took place while leaders from all four ministries gathered in Ukraine for more than a week to support the ongoing PF Ukraine relief work for prisoners, ex-prisoners, children and families of prisoners, prison officials, internally displaced people, and all in need in the war-torn country. More information to come in the Europe Regional newsletter and our next roundup.
Prison Fellowship Peru (Fraternidad Carcelaria del Perú) recently celebrated its 39th anniversary! Watch their celebration video here!
The Washington Secretariat had a special visitor! Prison Fellowship South Korea Executive Director Samuel Kwak spent time with the Global Impact team, examining programs that will make a difference in the lives of South Korean prisoners, their families and victims. In-depth discussions were held about Sycamore Tree Project: Justice and Peace®: Justice and Peace and our Restorative Justice Framework.
Prison Fellowship Brazil (Fraternidade Brasileira de Assistência aos Condenados) celebrated 50 years of the Association for the Protection and Assistance of the Convicted (APAC), an alternative prison model based on restorative justice practices, reconciliation and restoration. PFI President and CEO Andy Corley and PFI Latin America and Caribbean Senior Regional Director Dorestela Medina both spoke at the event, leading both a keynote address and a roundtable discussion. Read more about the event here.
Prison Fellowship Kenya's annual review was recently conducted. Hear two powerful stories that have come out of that ministry:
There is no shortage of testimonies regarding the impact TPJ has had on inmates, officers and prisons in general in Kenya. One such is a tale of two inmates who committed a crime together. While in remand, one attended The Prisoner's Journey (TPJ), graduated and continued with other discipleship programs. The other did not participate in any spiritual programs. After four years in remand, the two appeared before the Judge. The one who had participated in TPJ and other spiritual enrichment programs was given a reduced sentence of four years, while his colleague got twenty years.
It is also obvious that TPJ has given new meaning to the prison's officials, especially the chaplaincy who are all trained course leaders and trainers and have taken full ownership of the program. In the words of Reverend Michael Kiraguri, an Anglican cleric who is also one of eight chaplains at Nairobi Remand Prison, one TPJ cycle is worth more than 52 sermons in terms of content and impact.
PFI Asia Pacific's Regional Office has officially moved into a new office space! They are co-located with PF Singapore at Parish of Christ Church. Please pray that this office will bring together individuals, ministries and organizations across the region who are deeply passionate about serving and transforming the lives of prisoners and their families. Here is a tour of the office!
Ministry News Roundup – June 2022
Check out this great video by Prison Fellowship Australia about The Prisoners Journey and the findings from the Baylor TPJ study!
Here's our most recent video update from the European Regional team.
Restorative Justice
Restorative Justice takes center stage this week. We are publicly launching our newly rebuilt RestorativeJustice.org to showcase and spearhead an open exchange of restorative justice practices in the prison context. The site features Bible studies, academic research, handbooks, articles and other resources. The site's blog provides a platform to share any restorative practices or work that you — our national ministry partners — do. Later this week, the Ninth Congress of APACS will take place as part of the Jubilee Year celebrations. During the PF Brazil gathering of an estimated 500 practitioners, partners, volunteers, academics and authorities from Brazil and other countries, Andy Corley will celebrate 50 years of APAC and cast a vision for the future.