Ministry News Roundup – September 2023

Want your ministry featured in the next Touchstone issue? Submit content here!
Africa
Eswatini
Prison Fellowship Eswatini (PFE) volunteers visited both the Criminal Asylum and Vulamasango Boys Hostel to share the Gospel with the prisoners at both locations.  
PFE staff toured His Majesty's Correctional Service's stand at this year's Eswatini international Trade Fair. Notably, the Rehabilitation and Developmental Section mentioned their fruitful partnership with PFE in their brochure. 
PFE's local partner, Sheet Street Stores, donated bed covers and pillow cases to provide to inmates in need or recently released inmates. PFE also receives generous donations from Mr. Price Stores. Both of these partnerships help curb recidivism and improve the welfare of those reintegrating into society by acting as a support system to their rehabilitation process.  
Malawi
Prison Fellowship Malawi's Halfway House program held a workshop titled Voice and Agency Building Among Inadequately Served Populations Through Identification of Advocacy Champions to equip individuals with program knowledge and empower them to be advocacy champions. Workshop participants included government representatives, members of civil society organizations, church representatives, community members, PFM staff, HWH graduates and Malawi prison service staff.  
Nigeria
Prison Fellowship Nigeria recently celebrated The Prisoner's Journey graduates at Mandala Correctional Facility and Jos Correctional Center.  
Rwanda
Prison Fellowship Rwanda (PFR) received a donation of 24 laptops thanks to DOT Rwanda and GIZ Rwanda that will empower digital career counselors helping refugees in camps across the country to access jobs, scholarships and vital civil documents.  
PFR ensures children enrolled in The Child's Journey are safe and cared for by conducting home visits. Recently, they distributed shoes to the children through these visits. 
Asia Pacific
Cambodia

Prison Fellowship Cambodia (PFC) shared a video of a child enrolled in The Child's Journey reciting a Bible verse from John.  

The Cambodia Prisons Alliance, including PFC, the Cambodian Office of Vocational and Career Training and Cambodian Office of Reformed Education and Rehabilitation met to discuss project implementation updates, achievements, challenges and future enhancements.   
Nepal
Prison Fellowship Nepal (PFN) distributed school bags and other goods at a recent event organized through its kinship care program designed to ensure safety and roots in family and community for children of prisoners, Child's Hope.  
As part of its prison library upgrade initiative, PFN is upgrading Bardiya Prison's library by providing 300 additional books. Having already established libraries in all 75 Nepalese prisons, including Bardiya in 2006, they are now working to upgrade each library.  
PFN celebrated its 35th anniversary!  
Papua New Guinea
Prison Fellowship Papua New Guinea held a facilitator training for The Prisoner's Journey at a local church.  
Singapore
Prison Fellowship Singapore (PFS) hosted a gala dinner to commemorate its 70th anniversary with ministry pioneers, volunteers, partners, supporters and former staff members. Guests were treated to an exhibition that traced the history of national prison ministry, good food, a special commemorative video, the launch of a commemorative book titled 'Forgiven not Forsaken' penned by PFS' immediate past chairman and a cake cutting ceremony. Female prisoners made leather cardholders as door gifts for all guests.  
Sri Lanka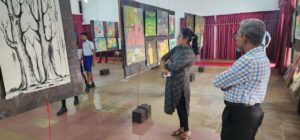 Prison Fellowship Sri Lanka organized a prisoner art competition at Colombo Public Library in partnership with the Sri Lankan Prison Department and Prisoners Welfare Department. Many individuals came to view and purchase paintings from the exhibit.  
PFSL held a cricket tournament at Welikada Prison for prison officers and police judiciary in Colombo, Borella and Demadagoda. This event provided an opportunity to build meaningful contacts with prison officials for future connections. 
Europe and Central Asia
Albania
Prison Fellowship Albania was able to provide 370 children with new back packs and school supplies for the upcoming school year through the Secured Childhood program.  
Czech Republic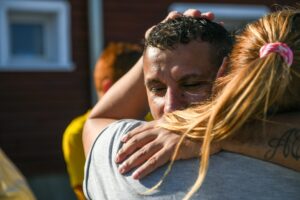 Thanks to Prison Fellowship Czech Republic's (PFCZ) Day With a Child project, 24 children across 12 families were able to see their fathers incarcerated at Belušice Prison. The families experienced a precious day full of playing, creating, competing, eating and having private moments with their fathers. One mother shared that she cried through the day as she admired the beauty of seeing her family reunited. Through this program, family bonds are strengthened and prisoners are motivated to return to their family.  
PFCZ is bringing prisoners a different perspective on their lives and an opportunity to reflect and understand what they have done wrong in it through The Prisoner's Journey. Gabriela Kabátová, PFCZ Executive Director and Founder, shares about this program in a new video. 
England and Wales
Prison Fellowship England & Wales' Communications Officer is running the London 10K race and he is committed to running an additional 1K for every £10 he raises! Check out his progress here. 
Israel
Prison Fellowship Israel celebrated its 41-year anniversary! Here's to many more years of ministry.
Poland
Listen in to this short song performed by Kornelia Nel Kijak shared by Prison Fellowship Poland. This short film is about former prisoner Paweł Cwynar's relationship with the artist, as she played an extremely important role in his life after leaving the prison walls.  
Romania
Prison Fellowship Romania received a new shipment from Barnmissionen, one of its long-lasting partners dedicated to serving people in vulnerable communities.  
Ukraine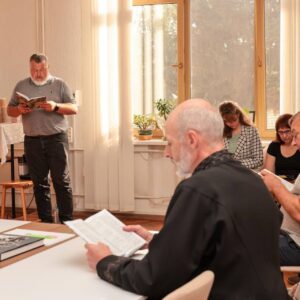 Each month, Prison Fellowship Ukraine (PFU) leads prayers and a Bible reading for the State Criminal Enforcement Service (DKVS). This month, attendees included the priest of the Ukrainian Greek Catholic Church and DKVS workers. After reading from the Gospel of Luke, and praying for the country and the punishment system, the group enjoyed morning coffee and fellowship.  
Latin America and the Caribbean
Colombia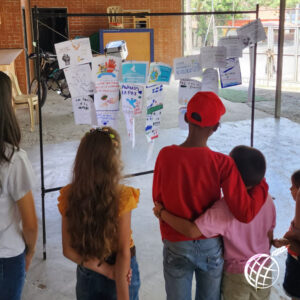 Prison Fellowship Colombia (PFC) held a training and psychosocial care session focused on providing emotional and psychosocial support to the family. This was done through training in psychological first aid for guardians, individual psychosocial care for children and adolescents, and personalized, need-based guidance for guardians. 
In partnership with Hope61 and OneMission, PFC participated in a human trafficking prevention workshop with church leaders, Prison Fellowship staff and the general public. The event increased awareness and collaboration to combat human trafficking, sexual exploitation, organ trafficking, labor exploitation and recruitment of child activists. Read more here. 
Paraguay
Prison Fellowship Paraguay held a course leader training for The Prisoner's Journey program at Cereso and Emboscada Vieja prisons. These trainings were conducted for both external volunteers and internal volunteers (incarcerated individuals who already graduated from the course).  
Uruguay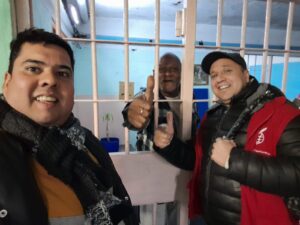 Prison Fellowship Uruguay shared pictures of course sessions and graduations for The Prisoner's Journey and Sycamore Tree Project.  
Middle East and North Africa
Lebanon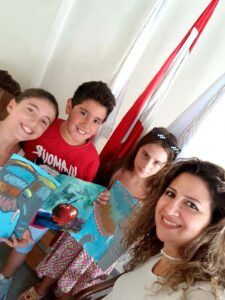 Prison Fellowship Lebanon has started a Drawing Art Academy every Saturday before noon for children of all ages. Take a look at some of the beautiful drawings and paintings they have produced.