Ministry News Roundup – July 2023

Want your ministry featured in the next Touchstone issue? Submit content here!
Africa
Sociotherapy Dialogues Server Perpetrators and Victims of 1994 Genocide Against the
Tutsi in Rwanda
Prison Fellowship Rwanda, in partnership with Interpeace and other governmental organizations, have led more than 800 community members through dialogues on events related to the 1994 Genocide Against the Tutsi in Rwanda, with the goal of establishing the truth, promoting mutual healing, rebuilding trust, and where possible, seeking and granting forgiveness. 
Read more here or watch one victim's testimony above. 
Celebrating Sycamore Tree Project Graduates in Nigeria
Prison Fellowship Nigeria recently held a graduation ceremony for Sycamore Tree Project® participants. Graduates were prisoners from the Maximum and Female Correctional facilities, both in Kirikiri. The event included graduates reading apology letters, testimonies and letters of covenants. Prison Fellowship Nigeria Lagos Chapter chairman, Chaplain Michael Adeyemo, shared at the ceremony, "This is always a program where some of the inmates do take responsibility for the actions that brought them to prison and make a vow with their creator, Almighty God, not to go back to crime if they were released from the prison." 
Prison Fellowship National Ministries Support One Another
Thanks to donations Prison Fellowship Malta received, they were able to provide prisoners at Nanyuki Prison in Kenya with soap and other toiletries. With the growing number of prisoners in Kenya, overcoming challenges of cleanliness and finding volunteers and donors to support them are increasingly critical. 
A Day of Fun for Children of Prisoners in Malawi
Prison Fellowship Malawi hosted children enrolled in The Child's Journey® program to celebrate the annual TCJ Children's Day. 125 children from around the country interacted with staff, mentors, caregivers and other children. This year's theme was "Let the Little Children Come to Me (Matthew 19:24)."  
Asia Pacific
Honoring The Listener's Way Graduates in Nepal
Prison Fellowship Nepal volunteers distributed certificates of completion to inmates who participated in and completed The Listener's Way program from Female Prison Kathmandu. 
Creating Opportunities for Cambodian Families of Prisoner to Thrive
Prison Fellowship Cambodia helps families of prisoners begin raising chicken in their communities in order to generate extra income so they can support their families and send their children to school. One beneficiary, Mrs. Mey, said, "I received chicken rearing training and starter kits from [the] Livelihood Project of Prison Fellowship Cambodia. I got a very good results after a few months of raising chicken."  
Internal Facilitators Share the Gospel with Peers in the Philippines
Prison Fellowship Philippines has resumed its discussions and sessions of The Prisoner's Journey® program! 24 college-educated prisoners participated in facilitator training … These trained, internal facilitators now serve as guides for their colleagues using the knowledge they have gained from the past courses. The training also aims to teach prisoners resiliency and mold them into better and changed individuals. 
Europe and Central Asia
Laughter and Fun for Ukrainian Children of Prisoners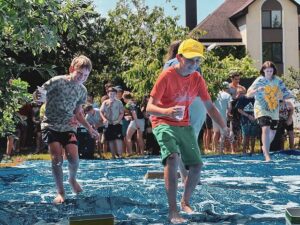 In June, the first week of children's summer camp was held in the Kyiv region thanks to Prison Fellowship Ukraine. About 70 children from the local community had the opportunity to have a free vacation, attend Bible lessons, play fun games, learn through a variety of classes and enjoy delicious lunches and treats. 
Reuniting and Building Bonds for Italian Families
Between hugs, games and music, Prison Fellowship Italy's Parents Inside Out project brought together joyful families to spend time together, something once unimaginable inside a prison facility. Through this effort, many fathers gained awareness of their parental role, igniting the desire in their hearts to become better men and better parents. 
Running for Good in the Czech Republic
Did you know that by being active, you can contribute to Prison Fellowship Czech Republic's Angel Camp? Through a mobile app, movement recorded while completing a run, bike ride, walk or other activities will award users points. Then, points can be assigned to a specific project, which the ČEZ Foundation will financially support.  
Empowering Spanish Volunteers with Training
Prison Fellowship Spain volunteers and team members met in San Bartolomé de Murcia for a dynamic training presentation about getting involved in a conscious and reasonable way while avoiding emotional exhaustion that prevents work being carried out in an optimal way. While there, they also handed out thank you cards to each of the prisoner participants.  
Latin America and the Caribbean
Multinational Organizations Partner for Monumental Research Study
Prison Fellowship International, Prison Fellowship Colombia, Pepperdine University and the National Penitentiary and Prison Institute of Colombia recently partnered to conduct a study on the effectiveness of faith-based, prison programs evaluate their effectiveness in changing prisoner attitudes, beliefs and behavior. The longitudinal study will follow participants in 12 Prison Fellowship programs throughout eight prisons for five years or more. Initial participant cohorts will launch in October 2023 with thousands of prisoners and their families being studied over the course of the evaluation. 
Read more here. 
Sharing Volunteer Testimonies at Breakfast in Mexico
Prison Fellowship Mexico recently held a volunteer breakfast in Mexico City where they heard testimonies from several volunteers and from Xime, a first-generation APAC student. Volunteers were joined by representatives from REACH, an international humanitarian organization with whom Prison Fellowship Colombia is looking to partner with.