Our Most Valuable Resources | by Dorestela Medina
" How beautiful are the feet of those who bring good news." (Romans 10:15)
Volunteers are the most valuable human resource of PFI national ministries worldwide because they are the feet and hands of the organization to reach and support prisoners in their transformation and rehabilitation.
Volunteers — both external volunteers and internal volunteers — carry out two different but closely related types of work within prisons and in the programs they carry out, such as fieldwork, properly developing the contents of the programs; administrative work, monitoring, and controlling the information related to that fieldwork and carrying it out. It is as if they were two sides of the same coin that complement each other and are very necessary to achieve the results or fruit of their work in the prisons.
According to the contexts, situations, and degree of organization, each national ministry establishes its layout in the prisons where they are active and determines the various ways of collecting information from all the penal centers or programs that are implemented.
Why is it important for national ministries to establish a reporting system?
The main reason is that they are being good stewards of God's grace and it gives a sense of belonging and ownership to the volunteers. Other reasons include:
Reflects the level of organization and growth
Reflects the level of leadership
Reflects if they are focused on vision and mission
Indicates if they are working with a clear, real, and measurable purpose and objectives
Helps prevent mistakes and correct them
Helps them to be projected
It allows obtaining information in a timely manner for decision-making
It makes it possible to know if the volunteers are fulfilling their commitments
Helps delegate responsibilities
Allows transparency to be open letters and read by all
In establishing the reports, it is necessary to define:
Levels
Content
Periodicity
Ways of sending reports
Levels
In the volunteer reporting system, it is very important to establish the different levels and flow of information between the prisons and the executive director of the national ministry. Normally the internal and external volunteers are concentrated in the different prisons in the territories, zones, or regions and report to the team and prison coordinator in charge, (who are also volunteers) on the development of all the programs that are being carried out to each in the prison.
The prison coordinator, in turn, receives, analyzes, and processes the information and improves it to share it with the regional director in charge (who is also a volunteer) and he, in turn, socializes it with the director or national coordinator in charge of the program or programs.
Content
The effectiveness of the information is based on completing as best as possible these questions: what, how, when, where, who, and at what time. To standardize the reports, generally, the national ministries establish formats or templates to be sent by the volunteers and in this way consolidate the information at the national level more easily. The reports generally have two components, quantitative information and narrative information that tells the achievements, progress, challenges, opportunities, and difficulties and with short stories of transformation of the prisoners.
Periodicity
The national ministries follow up the information with the volunteers on a weekly, monthly, and quarterly basis. They usually establish deadlines for monthly and/or quarterly reports to have timely information in a timely manner.
Ways of Sending Reports
Depending on the possibilities and conditions of the national ministry, information is captured by different means: through phone calls, handwritten reports from volunteers, and digital reports sent by email.
Finally, it must be considered that there are three very important aspects that aim to consolidate the work to guarantee a good information system, such as:
Training
Storage
Person in charge
Training
Just as volunteers are given training on how to develop the content and standards of a program (what we call field work), it is equally necessary to carry out training in the administrative area.
The volunteers can understand the importance of documenting, recording, controlling, and monitoring the work they do because what is not recorded or documented does not exist and is part of the institutional memory of the organization.
Storage
The coordinator in charge of the program or programs oversees establishing a registration system through a master or central file where all the information collected from the volunteers from the prisons/departments/regions is stored in order to have the information duly located and on hand for any particular review or analysis.
Person in Charge
In general, the program or program coordinator is responsible for managing and handling the information for the preparation of quarterly and annual reports, and in most cases, the National Ministries designate another person (volunteer), to support them in the process of gathering and organizing information.
Remember
The reporting system established by the prison ministries is key and necessary to monitor the plans and is the guarantee that allows NM to measure their compliance, and evidence to show the results of its programs in prison work, both within the organization to share with stakeholders and allies that support the work in prisons.
" And God is able to bless you abundantly, so that in all things at all times, having all that you need, you will abound in every good work. "
(2 Corinthians 9:8)
---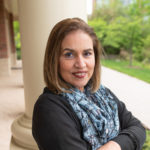 Dorestela Medina is the Regional Director, who supports and oversees the national ministries in Latin America. She brings us 30 years´ experience working in government, embassies, the United Nations, and NGOs (Oxfam GB, Save The Children Sweden, Care International, and SICA).
Prison Orientation Q&A | PF Liberia
Prison Fellowship started providing their volunteer staff with Prison Orientations in 2017. Since then, they have seen their programs run much more smoothly. This has lead to an increased sense of respect for PF Liberia volunteers within the prison community. Here's how Rev. Francis S. Kollie told us Prison Orientations have helped Prison Fellowship Liberia's staff, volunteers, and the community they serve.
Why did PF Liberia start doing Prison Orientations?
Prison Fellowship Liberia believes that local ownership is vital to any program or project, especially within the prison environment. With that in mind, PF Liberia decided to get prison authorities involved in all of its programs and projects by carrying out Prison Orientations in 2017, including both prison authorities and PF Liberia volunteers, in order to instill a sense of local ownership in our partnership.
How does Prison Fellowship Liberia run Prison Orientations?
Prison Fellowship Liberia brings together church volunteers, correction staffers, and PF Liberia staff in a form of stakeholder engagement; where each partner gets to know their roles and responsibilities in the prisons. We orientate our staff and volunteers on the "Dos and Don'ts" (Prison's rules and guidelines) before any implementation of a program or project.
Who runs the orientations?
The Prison Orientations are conducted by the Director of PF Liberia or Program Officer. We sometimes involve a particular prison Superintendent for the purpose of sharing new ideas and knowledge.
How have Prison Orientations helped volunteers prepare for work in prisons?
It equips them with information and rules to guide them as they enter the prison facilities. It also provides partners with clearer responsibilities and respect.
What has the effect been since PF Liberia started running Prison Orientations?
The orientation has been very effective in that volunteers were well prepared to enter the new environment. This has caused volunteers to work smoothly with Prison Authorities without making some common mistakes. This equips them with dos and don'ts. On the other hand, prison authorities see PF Liberia as partners and not spies on them. Information on prisons and prisoners are freely shared with our staff and volunteers such as prison data and challenges.
How has running Prison Orientations helped PF Liberia? How has it helped volunteers?
Prison Orientations has helped build volunteer capacity and has helped the ministry to be able to maintain a good relationship between the Prison Authority and that of the inmates themselves. Prisoners see PF Liberia volunteers and staff as key stakeholders in bringing hope for them while in prison.
We think pushing local ownership is key to inclusivity and openness. It helps each party to be accountable to the other while working for the same goal.
Prepare Your Volunteers for Success with Prison Orientations
Volunteers for your ministries share your heart and passion for the incarcerated. By preparing these volunteers, especially first-timers, with a basic orientation such as a prison tour or safety training, you can increase the likelihood of their long-term commitment and make their experience more rewarding for everyone involved.
In this article, we'll talk about what you need to transform your volunteer program by adding on-site clarity, creating simple procedures to prepare volunteers, and adding a follow-up to the volunteer process.
Involve All Stakeholders
Your first step should be to identify everyone involved in the volunteer process, including local government and prison authorities. Ask for their input and help in identifying things volunteers need to know, like common "do's and don'ts" of working in a prison.
Introduce volunteers to prison staff and create an open channel for information between volunteers and staff. This way, challenges can be shared and solutions worked toward together.
Ask your team leaders, such as board members, program directors and managers, to host the volunteers and lead orientation training sessions. You might also want to create a shadowing program for new volunteers to accompany current volunteers on their prison visits.
What You'll Need
Human Resources to communicate with potential volunteers and prisons to arrange visits, as well as arrange transportation
Prepare Your Volunteers for Success
Send an invitation, either in the mail or via email, to your volunteers asking them to visit a prison and attend a training course.
Travel with the volunteers to the prisons. This will provide you with valuable moments to get to know them and get a glimpse of why they want to be a part of this ministry. It also provides you the chance to set their expectations and answer any preliminary questions they may have.
Before arriving at a prison, walk your volunteers through a detailed security vetting process. Once at the prison, show them how to enter, proceed through security screening, find their classrooms, restrooms, and any other important locations.
What You'll Need
Invitations
Time invested to develop a role shadowing program, volunteer coordination, and prison visits
Prison access and space
Cost considerations include travel expenses and possible communication expenses
Follow Up
Some of the best learning experiences come in discussion after the fact. After a course, debrief with volunteers and course leaders. Discuss a volunteer's visit with him or her after it has been completed.
What You'll Need:
Time invested in a possible post-course survey, or the communication necessary to debrief
Who to Contact for More Information
Prison Fellowship Liberia has had great success with a prison orientation program for their volunteers, something they created in 2017. If you'd like advice or support to create or strengthen a prison orientation program, you can contact them or Prison Fellowship offices in Canada or Czech Republic.
Ground Rules: Common Prison Security Procedures and Policies
The following procedures and policies are common in most prisons. There may also be additional procedures you need to follow in a specific prison you enter, so check beforehand with the prison chaplain.
Click below to download these Ground Rules.
Working in the Prison Context
All visitors are subject to a bag search and/or a search of outer clothing at any time (please be prepared). Staff sensitivity is assured should this be undertaken.
Visitors and Volunteers are required to have photographic ID; a driving license or passport is recommended.
While in prison, an appropriate Visitor's Badge will be worn at all times.
If you hear any information in the prison that may be a security risk, tell the relevant authority immediately.

Confidentiality is key. All parties will keep information they hear during this course confidential.
Security is key. If prisoners reveal details of past crimes for which they have not been convicted (ie: that police do not know about), or planned future crimes, the Volunteer may have a legal obligation to inform security. (This may vary from country by country.)

Setting ground rules gives clear boundaries and expectations to the group and gives leaders and group members authority to bring the group back to order if the need arises. Boundaries are very important in the prison context.
It is inappropriate for Volunteers to use the internet or other media to seek information about persons they are visiting in prison.
No excessive personal medication may be brought in to the prison.
Volunteers observe confidentiality about their work in prison. Conversations between a prisoner and a chaplaincy volunteer are to be regarded as private. An exception can be made in relation to any harm that a prisoner states they may cause themselves or others. If a prisoner demonstrates behavior that causes any concern (e.g., mood change), volunteers must draw this to the attention of a chaplain or Staff. Such information should be forwarded to Staff. Prisoners are advised of this (unless there is a valid reason suggesting otherwise).
No coercion or pressure to practice (or not to practice) a religion is permitted.
Volunteers will recognize that people in prison can be troubled and will be aware of their emotional response to them.
Empathy is good but care must be moderated.
Books, magazines, or other items can only be forwarded to the prisoner through his Personal Property. If a volunteer wishes to provide items for a prisoner then the appropriate forms must be completed. This must be done in advance of bringing the items into the prison; when they are brought, they must be left at the Gate.
Situations To Avoid
DON'T make phone calls on behalf of prisoners, or allow them to use an office phone, no matter how sorry their story. Direct them to the relevant authority instead.
DON'T take phones, cameras, any electronic device, or anything on the local prison's banned list into the prison. If you realize that you have inadvertently carried an item through, explain to the authorities. Do not try to conceal your mistake.
DON'T give your address, phone number, email address, or anything that could identify your locality to a prisoner. Don't tell prisoners what church you go to, unless the chaplain thinks this is appropriate. (If you tell someone what church you go to, they know how to find you.)
DON'T ask prisoners personal questions. In particular, don't ask them what their offense was.
DO think before you share information. Be honest, but don't make yourself vulnerable emotionally or regarding personal security.
DON'T carry lists of prisoners outside the prison.
DON'T discuss prisoners with people outside the prison, except in very general terms and anonymously. Do not inform others that a person is in prison, neither should they confirm or deny this if asked.
DON'T make inquiries or discuss a prisoner with another prisoner.
DON'T engage in passing verbal messages from one prisoner to another.
No money may be handed to a prisoner during a visit.
DON'T receive goods or items from a prisoner.
DON'T post mail for a prisoner or give mail.
TAKE NOTHING IN AND BRING NOTHING OUT (unless you have spoken to authorities in advance). This includes letters from prisoners, including letters to you. Any letter addressed to you from a prisoner must be given to the authorities to be read. (Official letter-writing schemes do not expect individuals to carry the letters out of the prison for prisoners.) This also includes verbal information. Do not carry verbal messages between prisoners or between prisoners in different prisons.
Situations to Consider
Note: Please discuss the preferred response to these scenarios with your prison leadership.
You hear a prisoner offer to let another prisoner use the mobile phone which he has in his cell.
One of your group tells you that if you don't hide your coffee jar, he won't be able to stop himself taking it.
At the end of the session, the prisoners have gone back to the common prison area and you are tidying up. You discover that the electric cable that connects the video player to the TV is missing.
A course participant asks you to speak in private.
A course participant asks you what your wife's name is. You avoid answering. Later he asks you what kind of car you have. You say it's red. During the following session he asks you where you live.
One of the prisoners asks you to get a book for him.
A prisoner asks you to write to him. He doesn't want to join a letter-writing program, which is available in your prison. He wants to write or hear from you.
You hear two prisoners talking at break time about a serious incident in the common prison area, which you realize they were involved in somehow. They don't know that you have overheard them.
You hear two prisoners talking at break time about a serious incident in the common prison area, which you realize they were somehow involved in. They notice that you are standing behind them and change the subject.
It is important that volunteers have a clear understanding of how matters would progress if a volunteer was found to be in possession of unauthorized articles, including possible detention for interview by police. All volunteers will be issued with a security briefing protocol, which they will be required to formally sign, acknowledging that they have read, understood and are willing to abide by its terms. Terms include a requirement to report immediately to the governor or his/her representative any information or actions of which they may become aware during the course of their voluntary work, which may threaten the good order and/or security of the establishment.