TOMÁŠ | Czech Republic
Testimony of a New Friendship 
I would like to share with you a real-life story about two friends and the testimony they shared in the chapel of Rýnovice prison. Before I start telling this true story, I have to go back in time to introduce to you the two protagonists and shed some light on their previous lives. The story starts with gossip, hatred, pain and fear, but ends with reconciliation, understanding, cooperation, forgiveness and hope.
Addicted and Harmful
There were once two young men who lived in the same town. They knew about each other but hadn't met yet. What they had in common was that they were both drug addicts. At some point, they finally met and became friends, although I am not sure you can call a relationship between two addicts a friendship. Anyway, they started spending more time together, selling drugs together and supporting one another.
But, as expected, the drugs eventually took their toll and started tearing them apart, destroying the core of their being. Their characters changed and so did their priorities. They started badmouthing, stealing from and generally hurting each other. I cannot say which of the individuals was worse. They both share the blame for what happened between them. They started hating each other to such an extent that it could not end well. Eventually, revenge and retaliation followed. It went so far that one of them contributed to the other ending up in prison. And even then, they hadn't stopped. The one who was not in prison continued to do bad things to the other one until he too ended up in prison!
Even though they landed up in different prisons, the hatred didn't stop. They both spent their evenings thinking about how they would get back at each other when they got out.
Crossing Paths
Back then, they had no idea that their paths would cross sooner than they imagined. They would end up standing side by side, face to face in the same prison. What none of them could imagine actually happened. And so, they crossed paths once more, and it happened in the strangest place one could ever imagine. That place was the chapel of Rýnovice prison, and they met because they both, independent of each other, decided to enroll in the program called The Prisoner's Journey®.
I think that on the day they met again, they both had very mixed feelings about what was going to happen and doubts about where it was going to lead. But God wanted their paths to cross again, and they even ended up sitting next to each other in the chapel. As they sat there, they started sharing their lives again, explaining each other's point of view, and most of all, apologizing to each other.
The idea of forgiveness started taking shape.
Finding Reconciliation and Forgiveness
With each subsequent meeting, their relationship flourished. They started cooperating and reading the Gospel of Mark together. They watched videos of bad deeds that ended in compassion and hope. They even drew the scene of the Last Supper, which is all about betrayal but also forgiveness. Instead of war, peace entered their lives. Out of hatred came a new, true and pure friendship—a friendship without drugs. They promised each other they would no longer pursue revenge once they were released. In fact, they were quite sad that the program was ending.
Not only did they find out about the Lord Jesus and the reasons why He came to the world, but they also resolved a long-standing conflict between them, forgave each other and became friends again.
Everything written above is true because I was one of the two friends!
MATTHEW | Liberia
Matthew was born into a Christian household, surrounded by the familiar rituals of faith and attending church with his family. However, as he traversed the tumultuous path of adolescence and entered adulthood, the allure of the world tugged at his heartstrings, gradually luring him away from his spiritual roots. He distanced himself from the church, seeking solace in the fleeting pleasures of life.
"In the five or six years before I entered prison, I stopped going to church," Matthew confessed, reflecting on his journey.
The once-vibrant flame of his faith dimmed, casting shadows of doubt upon his soul. As he found himself confined within the bleak walls of a prison, anger swelled within him, fueled by the perceived injustice of his circumstances. "Why did God allow me to suffer for something that wasn't my fault?" he bitterly pondered, wrestling with his shattered trust.
His friends, who had enrolled in The Prisoner's Journey®, extended a lifeline of hope. They urged him to join them, their words brimming with excitement. "You should come, Matthew," they implored, their voices carrying the echoes of transformation. The first class left them awe-inspired, eager to share their newfound insights with their incarcerated friend.
Intrigued by their tales of personal growth and captivated by the videos of prisoners from distant lands, Matthew hesitantly agreed to participate. Little did he know that this reluctant step would mark the beginning of his own remarkable journey toward redemption.
Through The Prisoner's Journey, Matthew found his mind and heart unfettered, liberated from the shackles of anger and resentment.
"I am free now, even though I am still behind bars," he joyfully proclaimed.
The burdens he had carried for so long were surrendered to a higher power, as he learned to trust in the process of healing and forgiveness. The program had touched him deeply, prompting Matthew to remark, "The Prisoner's Journey has really changed my life for good." He reveled in the newfound freedom that blossomed within his soul, an inner transformation that defied the confines of his physical surroundings. Inspired by the profound impact of the program, Matthew resolved to become a course leader himself, driven by a heartfelt desire to guide and uplift his fellow prisoners.
"I am so grateful for how The Prisoner's Journey has changed my life," he gratefully declared, his voice resonating with a profound sense of purpose. Matthew had journeyed through the depths of despair, emerging on the other side with a renewed spirit and an unwavering faith in the transformative power of hope.
In the tapestry of Matthew's story, threads of doubt and anger were woven with strands of redemption and gratitude. The Prisoner's Journey had become the loom on which his life was rewoven, knitting together the broken pieces of his existence into a tapestry of resilience and spiritual renewal. And as Matthew walked the path of redemption, he discovered that even within the confines of a prison cell, the light of faith could illuminate the darkest corners of his soul.
Transform Prisoners like Matthew
Highlights from The Child's Journey – May 2023
Without intervention, children of prisoners are susceptible to exploitation, poverty, dropping out of school and criminal activity. Together we can stand in the gap to keep them from falling through the cracks of society and giving them a chance for a brighter future beyond the cycle of crime.
Keep reading to see how together we are helping children of prisoners live safer, healthier lives! 
CAMBODIA | Sharing God's Word
Click on the video above to see Chhanun reading from his new Bible.
Part of the services provided by The Child's Journey includes providing each child and their caregiver with age-appropriate Scripture resources in their heart language. More than 500 children in Cambodia and their caregivers have received these precious resources in just the past three months, and they are thrilled to begin exploring God's Word. For many, this is the first time that they have been able to read the Gospel, as Christians represent a tiny fraction of the population of Cambodia and it can be difficult to find Bibles translated into the language of Khmer. Check out the video above to see Chhanun in Cambodia reading from the book of Genesis in his new Bible!
COLOMBIA | Home Visits
A family in Colombia prays with TCJ staff during a child home visit.
Child home and community visits are key for program implementation and success for children in the program. These quarterly visits are an opportunity for the staff to meet with children and their caregivers, come to a full understanding of their specific needs and interact with other members of the child's community. During these visits, program staff share their vision and work with the members of the community to promote healthy approaches to released prisoner re-integration. It is common for released inmates and their families to be rejected or even held in contempt within their communities. Interviews and meetings with community members help promote a change in perception about these families. Each quarter, the team in Colombia completes more than 900 child home visits.
MALAWI | School Kit Distribution
Click on the video above to see children in Malawi receiving new school kits!
Every child deserves the chance to learn and grow through education. In the wake of Cyclone Freddy, families have faced new challenges and daily hardship, leaving many children of prisoners in Malawi without basic school supplies or the ability to purchase them. Your support ensures that your sponsored child in Malawi receives resources, tools and the support needed to thrive in school. Earlier this year, the field teams gathered school supplies and backpacks to create school kits that they distributed to children at The Child's Journey community events and individual home visits. In recent months, the team in Malawi has distributed more than 400 school kits to school-aged children.
RWANDA | A Lifeline For Claudine
Claudine is the mother to five children – four boys and one girl. When her husband was arrested and sent to prison, she was left to care for her children alone. It felt like a nightmare. Her husband had left her physically alone, and because of the shame of his crimes, she felt abandoned by her community as well.
Claudine struggled to care for her children and provide for them, as they were too young to stay alone while she was at work. Claudine was also crushed by the constant reminders of her status in her community. One day, overwhelmed by her emotions of shame and despair, Claudine tried to take her own life. By God's grace, the sound of her youngest son crying brought her back to reality, and she was not able to go through with it. It was in that moment that Claudine realized it is only God who wipes away her sorrow. Pictured: Claudine (right) with three of her children and a PFI staff member.
TOGO | Supplemental Food Deliveries
A group of children in Togo give a thumbs up after receiving new food supplies.
Children of prisoners are already at a higher risk of poverty and hunger. Having a parent in prison often means that the remaining parent is struggling to be the sole breadwinner of the family. The inflation of the past year has exacerbated this issue by causing the cost of food staples to rise above what many families in Togo can afford. Because of this, the need for supplemental food support increased for the families served by The Child's Journey. The Prison Fellowship Togo team has distributed life-giving food support to hundreds of children enrolled in the program this year. They often used these distributions to provide additional items such as hygiene kits and school supplies. Such efforts help the children lead healthy lives.
ZAMBIA | Visiting Incarcerated Parent
A group of TCJ children gather outside the bus to visit their incarcerated fathers.
With the easing of most COVID restrictions throughout the country, Prison Fellowship Zambia is once again able to facilitate prison visits for families in The Child's Journey. For many of the children, this is their first time communicating with their loved one since before the start of the pandemic. The reunions are full of joy and the children treasure the time that they get to spend with their parent. Through such efforts, families can be reunited and encouraged, making it more likely that if the parent is released, they will have a supportive community to return to. This is a key factor in helping prisoners rebuild their lives after incarceration and helping them break the cycle of crime.
Interested in learning more or helping even more children? CLICK HERE.
Preparing for Easter: Walking
with Jesus the Prisoner
As Easter approaches, Christians around the world prepare to celebrate and remember the resurrection of Jesus. When reflecting on this significant time, it's important to remember an aspect of Jesus's life that is often overlooked – His time as a prisoner. Jesus was arrested, falsely accused and tried before being sentenced to death on the cross.
Here at Prison Fellowship International, we believe that no one is excluded from God's sacrifice of His son dying on the cross, including those who are incarcerated. Through our in-prison programs, The Prisoner's Journey® and The Listener's Way, prisoners are introduced to Jesus the prisoner and shown the transformative power of the Gospel. This Easter, let the traditional sites of Jesus's arrest, imprisonment and death serve as a reminder that hope and redemption can be found even in the darkest of places.
Jesus's Journey from the Garden of Gethsemane to the Garden Tomb 
The Garden of Gethsemane
Christ in the Garden of Gethsemane by Paolo Veronese 
Located at the foot of the Mount of Olives in Jerusalem, the Garden of Gethsemane is the site where Jesus prayed with His disciples before his arrest on the night before His crucifixion. Jesus showed His agony as He asked God for the cup of suffering to be taken away from Him, but demonstrated His willingness to submit to God's will even though He knew the suffering that awaited Him. 
Biblical References: Matthew 26:36-46, Mark 14:32-42, Luke 22:39-46
House of Caiaphas
The House of Caiaphas by Gustave Doré 
Also known as the high priest's palace, the House of Caiaphas (or Annas, the father-in-law of the High Priest Caiaphas) is the site where Jesus was brought for interrogation and trial after his arrest in the Garden of Gethsemane. It was at this house where the Sanhedrin, the Jewish council, accused Jesus of blasphemy and decided to hand Him over to the Roman authorities to be crucified. The Bible does not explicitly say Jesus was imprisoned here, but Church tradition says this is one of the places where Jesus was "held" before his trial. 
Biblical References: Matthew 26:57-68, Mark 14:53-65, John 18:12-28, Luke 22:54
The Praetorium 
Christ Leaving the Praetorium by Gustave Doré 
Located in Jerusalem, the Praetorium was the official residence of the Roman governor Pontius Pilate and the site of Jesus's trial after being handed over by the Jewish authorities. Here, Pilate ultimately made the decision to sentence Jesus to death by crucifixion, demonstrating the political nature of Jesus's trial. Some believe that Jesus was imprisoned in one of the caves underneath the Praetorium. 
Biblical References: Matthew 27:2, Matthew 27:27-31, Mark 15:1, Mark 15:16-20, John 18:28-40, John 19:1-16
Gabbatha in Aramaic
The Judgment on the Gabbatha by James Tissot 
Gabbatha was the raised platform where the judgment seat (or bema) was located, near or appended to the Praetorium. This is where Pilate presented Jesus before the crowd and first washed his hands of responsibility for His execution before succumbing to the demands of the crowd to crucify Him. 
Biblical References: John 19:13, Matthew 27:11-26, Mark 15:1-15, Luke 23:1-25, John 18:28-19:16
Via Dolorosa
Christ Collapsing under the Cross by Anonymous 
Also known as the Way of Sorrow or the Way of the Cross, the Via Dolorosa is the path through Jerusalem that Jesus walked while carrying His cross to the site of His crucifixion. The Via Dolorosa is an important pilgrimage site for many Christians, as it is a way to walk in the footsteps of Jesus and remember His suffering and sacrifice. 
Biblical References: Matthew 27:32-33, Mark 15:21-22, John 19:17
Golgotha
Golgotha by Mihály Munkácsy 
Known as Calvary (Place of the Skull), Golgotha is the site of Jesus' crucifixion that sits outside the walls of Jerusalem. The exact location of Golgotha is uncertain but the Church of the Holy Sepulchre in Jerusalem is widely accepted as the location. Here, He who was without sin came to be crucified – a humiliating punishment that Romans imposed as a gruesome, shameful death. As Jesus is being crucified alongside two criminals, one of them taunts Him while the other acknowledges His innocence and asks for mercy. In response, Jesus tells the second criminal, "Truly I tell you, today you will be with me in paradise." With this statement, Jesus demonstrated His love, mercy and power to save. Dying on the cross, Jesus's life was the ultimate sacrifice made for humanity's sins and salvation. 
Biblical References: Matthew 27:33-56, Mark 15:22-41, John 19:17-27, Luke 23:32-43
The Garden Tomb
Preparation of Christ's Tomb by Vittore Carpaccio 
The Garden Tomb, also known as the Tomb of Christ, is the site of Jesus's burial after His crucifixion on the cross. Located in a garden near the Damascus Gate in the city walls of Jerusalem, the tomb was donated by Joseph of Arimathea and was carved into rock. Jesus's burial in the tomb represented the end of His physical life on Earth, but just the beginning of His spiritual resurrection  
Biblical References: Matthew 27:60, Mark 15:42-47, Luke 23:50-56, John 19:38-42
The Transformative Power of Redemption 
Jesus's journey through these historic sites reminds us that Easter is a time of redemption. His death and resurrection prove that even the darkest of moments can be transformed into something beautiful. Our programs, The Prisoner's Journey® and The Listener's Way, demonstrate this transformative power of redemption by engaging prisoners with Jesus. By confronting their past and finding hope for their future in the Gospel, prisoners experience rehabilitation and restoration. Just as these dark sites can be seen as symbols of hope, prisoners can see their incarceration as an opportunity for transformation and growth.
Community Visits With the Prison Fellowship Colombia Team
Christa Hammond
Children's Program Team
Prison Fellowship International
I am so grateful to have been able to visit our team at Prison Fellowship Colombia (PFC) and see the incredible impact that they are making through The Child's Journey (TCJ). I am sharing part of my experience with you with the hope that you will join with me in celebrating and praying for this dedicated team.
Our week started at the Prison Fellowship Colombia headquarters where we loaded the supplies for a community lunch and food pack distribution onto a large bus. Alba, the TCJ Program Coordinator for PFC, arranged for us to participate in the community events and join the caseworkers for home visits throughout the day. Once we arrived, we unloaded the bus of all of the supplies that we brought along. Together, with my colleagues and a group of caseworkers, I started the long trek up many flights of stairs to meet with families while the remaining staff stayed behind to start cooking lunch. The chicken stew and rice that was going to be served took four hours to prepare and was cooked in a large pot suspended over an outdoor fire.
The home visits are eye opening, you cannot walk into someone's home, hear their testimony, see their struggle, pray for them and not leave changed in some way. 
The families shared how TCJ has impacted their lives, how long they've been in the program and how grateful they are for the support that is provided physically and spiritually. Many of the families have been in the program for six years and they talked about the tight-knight relationships that they have built with the PFC staff over the years.
The caseworkers care so deeply for each family. The love that they have for these families truly is the love of Jesus. 
During our time together, they were also able to share their concerns with us. Most families struggle with their homes in one form or another and they have concerns about the ability protect their children. The feedback from the families was honest and loving. Because of the great relationships the staff have with the families and the knowledge of TCJ operations, the staff is able to talk to the families when tough subjects need to be discussed concerning program standards. This allows everyone involved to be heard and grow in the program.
The community lunches have enabled PFC to gain the trust and respect of the community. They feed everyone; you do not need to be a TCJ beneficiary to participate. This has allowed the children in TCJ to connect with their peers. It also allows caregivers to meet with other parents in the surrounding community and build a network of care for both them and their child. This helps them to have a support system both within the program and outside of the program that has been built by community gatherings.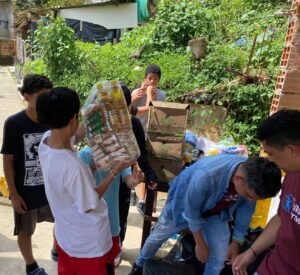 The food pack distribution happened at the end of the event. All TCJ families were able to take home a month's worth of food. The packs consist of lentils, meat, juices, rice, crackers, eggs, and cookies. Food distribution plays a key role in ensuring the children are well nourished. This impacts one of the "key result areas" that are tracked through The Child's Journey and it was an honor to be a part of one of these important events.
This experience allowed me to see how The Child's Journey is excelling in Colombia and providing essential services throughout communities and families affected by crime. I am grateful to my colleagues, the field teams, and the dedicated sponsors and supporters who make this life-changing program possible for vulnerable children of prisoners. May God bless you all.
Click here to check out a short video of the day's events!
See children available for sponsorship HERE.
Highlights from The Child's Journey – April 2023
Without intervention, children of prisoners are susceptible to exploitation, poverty, dropping out of school and criminal activity. Together we can stand in the gap to keep them from falling through the cracks of society and giving them a chance for a brighter future beyond the cycle of crime.
Keep reading to see how together we are helping children of prisoners live safer, healthier lives! 
CAMBODIA | Education Support
When a parent goes to prison, their children are at a higher risk of dropping out of school due to poverty. By empowering a child to continue their education, you are enabling them to pursue a brighter future by keeping them safe from child labor and ensuring that they have a crucial source of stability, safety and nutrition. Your support is providing hundreds of children enrolled in The Child's Journey in Cambodia with school fees, school kits, uniforms and a community mentor to set them on the path to success. Such efforts close the gap of disadvantages that children of prisoners often face in school and minimize stigma from their peers. Pictured: A caregiver in Cambodia watches as her child uses his new school supplies.
COLOMBIA | Hope for Claudia
Claudia's heart was broken when her daughter and son-in-law were arrested and taken to prison. Once again thrown into the role of motherhood, as she became the caregiver for her four young grandchildren. She took on extra jobs to provide for them, but found herself falling behind on bills and struggling to make ends meet. She prayed for God to make a way, even when she couldn't see a path forward. Amidst her despair, an unfamiliar person came to visit – a caseworker from Prison Fellowship Colombia. Claudia was thrilled to find out that the children would receive services such as education support, healthcare, a Christian caseworker and Scripture resources through The Child's Journey. "The Child's Journey has made my grandchildren curious to learn more about God's Word," she shared. She had felt alone for so long, but now she felt like someone cares for her, saying, "I am so grateful to Prison Fellowship Colombia for finding my family and giving us hope. I pray blessings on them and on the sponsors of my grandchildren." Pictured: Claudia surrounded by her grandchildren
MALAWI | Sponsored Child Spotlight: Ruth
When Ruth's father went to prison, she and her baby siblings were sent to live with her grandmother, Cecilia. Cecilia worked hard to provide for their needs, but sometimes it still wasn't enough to fill their bellies and give Ruth the supplies she needed for school. Despite Cecilia's efforts, Ruth had no uniform, shoes or school bag. She made the three-mile trek to school barefoot, holding scraps of mail for paper and broken pencils. But Ruth is determined to get her education because she dreams of becoming a nurse to help others. When The Child's Journey contacted her family in 2021, they knew it was an answer to their prayers. 
Moved by Ruth's determination and dedication to succeed, they quickly enrolled her into the program where she was matched with a loving sponsor. The Child's Journey provided her with educational support in the form of tuition assistance, school supplies, a pair of shoes and a new uniform. Her caseworker shared that upon receiving the uniform, Ruth's face reflected a passionate child who would do anything to achieve her goals. Ruth and Cecilia express their profound gratitude to Ruth's sponsor and the dedicated team from Prison Fellowship Malawi for making her dreams a reality. Pictured: Ruth smiling with joy
RWANDA | Home Repairs
As the global economy struggles with inflation, many families in Rwanda are finding it even tougher to afford necessities like food, much less additional expenses like home repairs. One of the primary challenges facing children of prisoners in Rwanda is a lack of safe housing. Many caregivers, left to provide on their own, do not have the means to perform necessary home maintenance like patching roofs or fixing cracked walls. The Prison Fellowship Rwanda team inspects the home of each child during their quarterly home visits and takes note of any repairs that need to be done. The team in Rwanda is actively working to ensure that all of the children enrolled in their program are living in safe homes. For some, this includes completing tasks like patching holes in roofs, installing locking doors and repairing walls. Pictured: A member of the Prison Fellowship Rwanda team assisting with patching the roof of a TCJ child's home.
TOGO | Scripture Resource Distribution
A group of children in Togo receive the Reach for Life Bible
The team in Togo is hard at work distributing Bibles and scripture resources to children and caregivers in The Child's Journey. These resources, provided through our partnership with Biblica, are translated into the heart languages of the recipients. In Togo, Bibles can be prohibitively expensive, especially as the Togolese economy is reeling from soaring food costs that have left many families struggling to even afford necessities. In the photo above, teens in Togo received Reach For Life Bibles that include special lessons relating to young adulthood to serve as a resource for helpful, Biblical discussions during their mentoring sessions. 
ZAMBIA | Caregiver Training
A group of TCJ caregivers join together for a child health and safety training event
Prison Fellowship Zambia hosts caregiver support groups and workshops for the caregivers of children enrolled in The Child's Journey. Having a support network to share struggles, successes, and everyday life is vital for caregivers, as they often walk through incarceration of a family member and caring for their family with limited resources and community support. While the children are the primary beneficiaries of The Child's Journey services, the program also seeks to empower and support their caregivers by providing them with training and fellowship. This holistic caring of the family provides an even greater foundation for the families to overcome economic and social challenges. Their most recent workshop centering around child health and safety training was attending by more than 140 caregivers. 
Interested in learning more or helping even more children? CLICK HERE.
A Mother's Day Reflection
Gina Brockmeyer
Children's Program Manager
Prison Fellowship International
My mother was one of the strongest women I have ever known, but I will never forget her reaction as a bailiff escorted my oldest daughter, Lena, into the courtroom following her first arrest.
As Lena shuffled across the floor wearing a bright orange jumpsuit, shackled and handcuffed, my mother gasped in disbelief and began sobbing uncontrollably. I, on the other hand, just sat quietly in the chair, too numb to do anything.
Nothing prepares you to see your child in that state.
As I watched the scene in the courtroom unfold, my emotions varied. I felt shame, regret, tremendous pain, a sense of hopelessness and intense anger. My mind was racing with thoughts about what I could have done to prevent Lena's behavior and this situation. I also kept asking myself and others how I could have been a better mother.
I know that the feelings and emotions that my mother and I felt at that moment, and over the years while we have supported Lena during her incarceration, are not unique.  
I have been involved in prison ministry for over 18 years. Throughout that time, I have ministered to many women who have shared their stories and experiences with me about supporting an incarcerated child. Some were mothers and grandmothers who have or had incarcerated children. Others were or had been incarcerated mothers and grandmothers themselves. And, just like me, all of them expressed shame, regret and anger about their child's or their situation.
People often forget that incarceration not only impacts the prisoner, it also impacts their families. Mothers are especially impacted when their children are incarcerated. They gave birth to them, nurtured them as they grew up and, in most cases, played a major role in raising them. Many mothers feel responsible for their child's actions and believe that they are a direct reflection on them.
All the challenges and pain associated with supporting an incarcerated loved one are innumerable and, without support from family, friends or a church, can seem unsurmountable. But I am here to tell everyone that with God's help, prayer and the loving support of fellow believers, it is possible to persevere, to face each day and to provide support to an incarcerated loved one.
Families of the incarcerated, especially mothers, need to hear that Jesus loves them. They also need to know that we love them too, no matter what their family member has done. They need to know that Jesus is always with them, that He will never leave them or forsake them, and that He is a very present help in their times of trouble.
In Hebrews 13:3, we are told to remember those who are in prison as though we are in prison with them, and to remember those who are suffering as though we are suffering. I believe that means, as Christians, that we should be doing everything we can to support prisoners and their families.
This Mother's Day, take time to remember all the mothers and grandmothers who have incarcerated children, and all the incarcerated mothers around the world.
Pray that they will feel Jesus' presence and be comforted. Pray they will be reminded daily of Jesus' great love for them and His love for their children. Pray they will find a loving and supportive community to support them. Pray that their children will be safe and provided with the things they need.
Finally, pray that Christians around the world would take these verses in Hebrews to heart, and that they will be moved to pray for and provide support for prisoners and their families.
CLICK HERE to learn more about supporting a child with an incarcerated parent.
Paolo Found Forgiveness
Paolo was transferred to an APAC in Brazil to complete his prison sentence. An APAC is an alternative prison model that aims to provide better conditions and opportunities for the rehabilitation of prisoners. Soon after arriving, he was invited by fellow recuperandos* to participate in The Prisoner's Journey, and he gladly accepted.
He shared, "It was very important to me to be part of this program and journey because it tells the story of a prisoner who suffered, was rejected, massacred, and excluded from society. That prisoner is called Jesus Christ." Throughout the eight-week course, Paolo realized how much he related to and understood Christ's story. He knew what it was like to be rejected by society and to suffer. "But that doesn't matter because I now know that, even in prison, there is someone by my side who gives me strength."
There was one Bible verse in particular that resonated with Paolo, Matthew 25:36 – I needed clothes and you clothed me, I was sick and you looked after me, I was in prison and you came to visit me. "This verse showed me how much Jesus is by my side, helping me through various people," he reflected.  "They support us, give us the strength to continue fighting every day, showing me that I still have hope. Through The Prisoner's Journey, I learned that just as Jesus won the world, I am also capable of winning. The course has helped me to see what I did not see, which is that there is a God who has already forgiven me and who suffered to pay the price for me. I loved the course."
In fact, Paolo loved the course so much that he is now training to become a facilitator for The Prisoner's Journey within APAC Alfenas. He plans to help other offenders find the same forgiveness and hope that he experienced.
* A recuperando is an offender assigned to an APAC. Recuperando means recovering.
Daiana | Uruguay
"When I was asked to participate in the Sycamore Tree Project: Justice and Peace (STP) to share my experience of being the victim of a crime, I felt that sharing my experience would be beneficial for the course participants. Soon after accepting the invitation to participate, I began to internalize what happened so that I could contribute to the program and I started to get cold feet as I became more aware of what I would be doing in the prison.
One thing that gave me security was that the facilitators assured me while I was participating inside the prison, I would be part of the Prison Fellowship Uruguay team and would be cared for by them. Something that also caught my attention was the fact that I was told that in STP, the victim is also a part of the recovery process towards freedom from the crime. I honestly did not understand what that meant until I was in the prison and speaking with the STP participants.
Before entering the prison, there were many emotions stirring within me. All of my uneasy feelings went away when I got into the prison.
The facilitators instructed me on what to do, and it really helped me feel like I was one of them. Although I did not express it, I felt a great sadness as I entered the prison because of the large youth population. Once the class started, I felt the sadness in my heart disappear. The facilitators created a calm and pleasant atmosphere, and I could see that the participants were paying attention to what was being shared. I did not feel uncomfortable despite never having entered the prison to talk about my life before. As the course proceeded, I became more aware that I was sharing my experience with those who have caused others a similar or greater evil than my own.
As I was sharing what was happening within me during and after such an experience, I felt a sense of freedom from what I experienced. This produced a sense of healing that went beyond the material! It allowed me to put into words how I felt, for the first time in my life.
On an emotional level, I felt that I had connected with many of the prisoners in the course. I know that they are in prison to pay for their crime, but if at least one can take the opportunity to reintegrate into society using the lessons from STP, then being a victim participant is worth it."
Daiana, Victim [Montevideo, Uruguay]
The Evidence of Transformation: My Journey on The Listener's Way

Gina Brockmeyer
Children's Program Manager
Prison Fellowship International
"For the word of God is alive and active. Sharper than any double-edged sword, it penetrates even to dividing soul and spirit, joints and marrow; it judges the thoughts and attitudes of the heart." Hebrews 4:12
Recently, I had the opportunity to meet and talk with twelve women at a correctional facility in Phenom Penh, Cambodia who are being transformed as they listen, discuss, and meditate on God's word for the first time in their lives. These twelve women make up the first women's group participating in The Listener's Way (TLW).
According to Sothery Kong, the TLW Program Coordinator in Cambodia, and the group's facilitator, none of the ladies in the group were Christians when they signed up to take part in TLW, and most had never read or even seen a Bible. But after three months in the program, they are transforming before his eyes. They are hiding God's word in their hearts and are praying on a regular basis. "The transformation has been evident, and I believe that they have all made a decision to follow Jesus", Kong stated.
Initially, when I was introduced to the group, they were quiet and shy, and refused to look at me, but as I continued to talk to them explaining who I was and why I came to see them, they began to open up and share about their three-month journey in TLW. One woman told me that before she joined TLW she was angry all the time about her circumstances, but now she is at peace. She said "I know that God is with me." Another woman said that through TLW she has learned to pray, and with a big smile on her face she went on to say that on three separate occasions when she has prayed specific prayers, God has been faithful to answer her prayers. She said, "I am learning to trust that God is with me, he is faithful, and I am learning he wants what is best for me." And yet another woman said that she has become calmer since joining the program and does not become as angry when she responds to others and reacts to situations around her.
As we sat in the beautiful little chapel built by prisoners with funds raised by Prison Fellowship Cambodia, and the words of Luke 20-22 poured forth from the proclaimer, the women listened intently. And when the reading was finished, they engaged in a lively discussion focused on what they had learned, and how they would apply it to their lives. They came alive as they bantered back and forth and were challenged to elaborate on many of the things they shared. Their camaraderie was evident, smiles could be seen on every face, and it was clear to me that they are being transformed through this program.
As we closed our time in prayer, I was suddenly overwhelmed with feelings of peace and joy that I rarely experience. I believe those feelings came over me because I had a front row seat to see the impact The Listener's Way is making and got a brief glimpse of the potential for what can be accomplished through this transformational program in the future.
CLICK HERE to learn more about The Listener's Way