Ministry News Roundup – June 2023

Want your ministry featured in the next Touchstone issue? Submit content here!
Africa
Conversations on Restorative Justice in Nigeria
Prison Fellowship Nigeria Executive Director Benson N Iwuagwu recently appeared on the Healing Justice Radio Show on Eko FM. He was joined by two coordinators from the Lagos State Restorative Justice Centre. Watch the full interview here. 
Celebrating African Children in Malawi
Prison Fellowship Malawi celebrated The Day of The African Child on June 16, displaying the activities and services it provides through The Child's Journey program. The theme of this year's celebration was The Rights of The Child in The Digital Environment. 
Much Needed Supplies for Guinean Prisoners
Prison Fellowship Guinea purchased and distributed fans and medicine to prisoners across the country.  
Asia Pacific
Cross-Continental Introductions for New Team in Thailand
Prison Fellowship Thailand's Executive Director, Rev Dr. Yupho Mathusonsawan, recently met with Prison Fellowship International's CEO and regional staff for an introduction team after their recent chartering.  
Transformation through Literature for Nepalese Prisoners
Through faithful work, Prison Fellowship Nepal has established libraries in all 75 prisons around the country. Now, they are updating and upgrading the libraries to continue transforming and repairing the lives of prisoners.  
Providing Generational Income for Cambodian Families
Prison Fellowship Cambodia provides training and breeding of poultry to the families of prisoners through chicken rearing training and starter kits. These services allow for income generation for the families of prisoners so that they can stay at home to nurse and protect the children for their wellbeing. 
Europe and Central Asia
Partners in Europe Meet for Prison Visit
Prison Fellowship Romania received a visit from one of their partners, Seehaus eV (Prison Fellowship Germany). Together, they visited the outer section of the Gherla penitentiary in Cluj-Napoca. 
Television Discussion about Czech Prison Work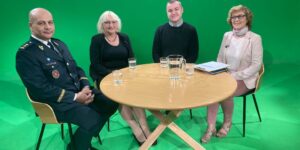 Prison Fellowship Czech Republic Executive Director Gabriela Kabátová, along with Simon Michailidis, Czech Republic Prison Service Director General, and Petr Novák, psychologist at Jiřice prison, were recently guests Round Table, a TV Noe discussion show. They spoke about how to work with prisoners, what role it plays in the life of convicted faith or guilt awareness, and families and children of prisoners. Watch the recording here. 
Morning Meditation for Ukrainian Employees
Lead by Prison Fellowship Ukraine Executive Director Vyacheslav Kogut, State Criminal Enforcement Service employees started the day with coffee, goodies and spiritual communication. The nearly 30 attendees read the Gospel of Luke, shared their thoughts, and prayed for Ukraine's victory and prosperity, along with the wounded and missing military. This will be a new monthly tradition!  
Latin America and the Caribbean
Multi-Organizational Surinamese Training Partnership
In partnership with PUSH, Prison Fellowship Suriname trained a group on the basics of prison care with the hopes of building a movement of highly passionate workers. During this workshop, tools were provided to perform careful and correct work inside and outside prisons with more advanced training to come!  
APAC Visit from Esteemed Brazilian Minister
The Minister of the Brazilian Federal Supreme Court, Carmen Lucia, visited male and female APACs in Itaúna, along with the Prison Fellowship Brazil headquarters. The aim of the visit was to better understand the APAC Method and the facilities of the CRS – Social Reintegration Centers. Read the full story. 
Bringing the Gospel to Argentinian Prisoners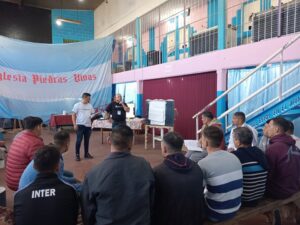 Prison Fellowship Argentina has begun conducting The Prisoner's Journey program and shared photos of course sessions in Unit 35 of Magdalene Prison in Buenos Aires. They are working and training to break the cycle of crime through the love of Jesus.